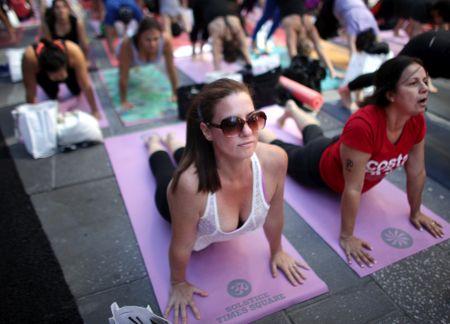 After dropping surya namaskar from the official yoga programme to avoid controversy, the government on Thursday said chanting shlokas during International Yoga Day was not compulsory and appealed to Muslims to participate in the event.
Shripad Naik, Minister for Department of Ayurveda, Yoga and Naturopathy, Unani, Siddha and Homoeopathy, the coordinating ministry for the event at Rajpath on June 21, said Muslims can "take the name of Allah instead of reciting 'shlokas'" during the event.
While some minority groups have objected to the holding of the event by government, especially inclusion of the surya namskar, representatives of some Muslim organisations who met Naik on Thursday said those opposing yoga were "enemies of humanity" and yoga has nothing to do with religion.
External Affairs Minister Sushma Swaraj had said a committee which decided the common yoga protocol had not included surya namaskar "because they wanted easy asanas (exercise) in it, which can be performed by anyone".
Naik on Thursday said, "We did not include surya namaskar to avoid controversy. And, moreover, it's difficult to do it. But surya namaskar is not religious. We want the whole event to go smoothly."
"Shlokas are not compulsory. Shlokas are merely prayers but it is not compulsory. They can even take the name of Allah instead of chanting shlokas. I request the Muslims to participate and unite the country," Naik told reporters after meeting a delegation of Muslim organisations.
Opposition has been voiced by some organisations, including the All India Muslim Personal Law Board, against performance of surya namaskar, saying it is against their faith.
"We did not make anything compulsory. Even the HRD ministry has merely appealed to the educational institutions. Few parties are opposing it for the sake of politics," Naik said.
Noting that yoga is a matter of pride and has "nothing" to do with religion, the minister said that yoga unites people and is done for fitness.
"If people aren't fit there won't be any development. The protests are misleading. Muslims would be co-partners not just participants," he said.
Meanwhile, Daudi Bohra community members who met the minister welcomed Prime Minister Narendra Modi's initiative and said the event does not have any religious connotations.
"There's yoga in namaaz but namaaz isn't yoga. Those who oppose it are enemies of humanity because yoga is for the well being of humans," Maulana Syed Kaukab Mujtaba Abidi, president of Majlis Ulema e Hind, Uttar Pradesh, said.
Firebrand Bharatiya Janata Party leader Yogi Adityanath had kicked up a row saying those opposing surya namaskar should "drown in the sea" which was decried by Swaraj as "unfortunate".
Adityanath's remarks came after the All-India Muslim Personal Law Board said that it will move the Supreme Court against inclusion of surya namaskar and yoga in schools.
Interestingly, Bohra said that AIMPLB's opposition is for "political gains" and that it works as per the "directions of a particular political party".
"A section is trying to make it a political issue. The event is being wrongly interpreted. Yoga has got nothing to do with rituals. We will definitely take part in the event," he said.
A joint statement by the delegation said that several of the postures during namaaz were similar to yoga asanas.
Bohra denied that the government had fielded them as a damage control move, saying that they themselves wanted to meet Naik who is coordinating the event.
"Many Muslim countries have expressed desire to take part in the event and we would like to do the same," he said.
Photograph: Yana Paskova/Getty Images