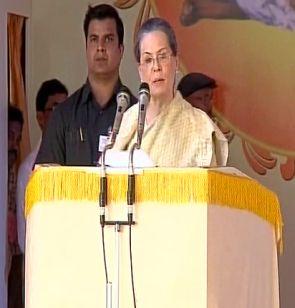 In a veiled attack on the Bharatiya Janata Party, Congress president Sonia Gandhi on Wednesday said that attempts were being made to "capture" the legacy of renowned social reformer Sree Narayana Guru by "communal ideologies and individuals" for political gain.
She also said there were attempts to communalise the guru's teachings and this amounts to 'betraying' him.
"I believe that there can be no greater betrayal of Sree Narayana Guru than the attempts being made to capture his legacy by communal ideologies and individuals whose motive is political power by spreading prejudice, bigotry and dividing our diverse society," Gandhi said in her inaugural address at the 83rd annual pilgrimage at Narayana Guru's abode at Sivagiri mutt.
Her comments assume significance against the background of the Sree Narayana Dharma Paripalana Sangam yogam, an organisation of the numerically strong backward Ezhava community, entering into a tie-up with the BJP in Kerala where assembly elections are due next year.
Gandhi said the guru believed in respect to all faiths and motivated his followers to respect all religions.
In 1924, at a congregation in Aluva in Ernakulam he had stressed "the need to abstain from religious conflict and to promote universal peace, harmony and prosperity of all religions," she added.
The guru established the Sivagiri mutt as a prime symbol of social reformation and social equality.
Narayana Guru's teachings of equality, liberty and social justice were of "vital relevance even today," she said, adding, "In fact I would say that they are (teachings) are more relevant today."
Gandhi also said that it was sad that caste discrimination still existed in the country.
"Sadly caste discrimination still exists and we still have much work to do in the area. It is for all of us to work in fully eliminating discrimination in the country of any form. It is in our power to eliminate it," she added.
The Congress chief's visit to the Sivagiri mutt came close on the heels of Prime Minister Narendra Modi's visit to the mutt on December 15 to pay homage to Narayana Guru who gave the message of one caste, one religion and one god to mankind.
The Sivagiri Mutt is a major spiritual-cum-pilgrim centre of the Ezhava community in Kerala.
Gandhi said even though there are laws to empower the underprivileged "but sadly caste discrimination and oppression still exists and we have to do much work to ensure full gender equality."
Wooing the numerically-strong backward Ezhava community, she said the Guru was an "architect of spirituality and social reforms to whom spirituality means service of the poor and weaker and welfare of all humanity. His wisdom continues to inspire millions all over."
Without naming SNDP general secretary Vellapally Natesan, who has been warming up to BJP, she said, "It would be complete negation of Sree Narayana Guru's teaching if it (SNDP) pursues political gains by a few of this noble organisation and stray from its principles and purposes (for which it had been established)."
She said under the Guru's guidance, SNDP had promoted education, cultural and social activities "to uplift the disadvantaged and underprivileged communities and gave them dignity, pride and self respect."
Taking the name of former state chief minister R Sankar, whose statue was unveiled by Prime Minister Modi at Kollam during his recent visit and described him as a close friend of Jana Sangh founder-member Shyama Prasad Mukherjee, Gandhi reminded the people that it was the Congress party which had made Sankar chief minister in 1970.
The statue unveiling function had become controversial after the invite to Chief Minister Oommen Chandy was withdrawn, with Chandy and Congress leaders besides other opposition leaders not attending the function.
SNDP had played a tremendous important role in promoting and advancing the Guru's teachings. It has contributed in transforming Kerala and this had led to "unprecedented" social reforms. An example of this is appointment of Sankar, an Ezhava leader, as chief minister by Congress in 1970, she said.
Kerala, considered a traditional Congress bastion, is going to polls by mid-next year and the BJP, which has yet to open its account in the state assembly and Parliament from the state, is making all attempts to bring the Ezhava community to its fold.
SNDP had tied up with BJP in the recently-held local body polls and the saffron party had made much gains.
In contrast, the ruling Congress-led United Democratic Front had faired poorly in the civic polls, which is considered a dress rehearsal before the crucial assembly polls in 2016.
Significantly, SNDP has also recently floated a political party Bharat Dharma Jana Sena, which is likely to have tie-up with the BJP in the coming polls.
Gandhi said great personalities like Mahatma Gandhi and Rabindranath Tagore had come to the mutt to pay their respects to the Guru and former Prime Ministers like Jawaharlal Nehru and Indira Gandhi were profoundly influenced by the Guru's "personality, values and teachings."
She went down memory lane and reminisced her visit to Aruvippuram in the state along with her husband, late Rajiv Gandhi, to attend a function.
She also used the occasion to mention the achievements of the UDF government and said under Chandy's guidance the state had moved ahead in infrastructural development and social welfare schemes.