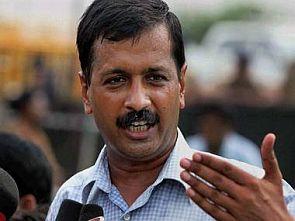 Making an electrifying debut in high-profile Delhi Assembly polls in which it routed Congress, the Aam Admi Party on Sunday ruled out taking support of any political party to form the government, saying it will play the role of a "constructive opposition".
Addressing supporters and media gathered at the party office in central Delhi, an upbeat AAP convenor Arvind Kejriwal termed the results of the polls as "historic" where the people have come out and voted for a "clean and honest" political party.
"These are historic results. This is not a victory of Aam Admi Party, it is a victory of the people," the 45-year-old bureacrat-turned-politician said amid loud cheers by his supporters at the crowded office.
Asked whether he will seek support of Congress to form government, Kejriwal said, "We will play the role of a constructive opposition and will not seek support from any party to form the government."
AAP, which was born a year ago following the civil society movement against corruption led by Anna Hazare, made a stunning entry into electoral politics by becoming the main opposition relegating Congress to the third position in the 70-member Assembly.
"The results are a message to established political parties like Congress and BJP to change the way they do their politics. If they do not reform, the people will throw them out," said Kejriwal, who served the biggest blow to Chief Minister Sheila Dikshit by handing down a shocking defeat to her in the New Delhi constituency by a huge margin of 25,864 votes.
The key agenda items of AAP are Jan Lokpal Bill, right to reject, right to recall and political decentralisation.
A former Income Tax official, Kejriwal came into prominence, especially in Delhi, when Anna Hazare launched the agitation on the Lokpal issue.
AAP has already declared that it is not a Delhi-centric party.
"After the Delhi polls, you will see us being more active outside Delhi.... We certainly plan to go nationwide for the Lok Sabha polls," Kejriwal's party has said.