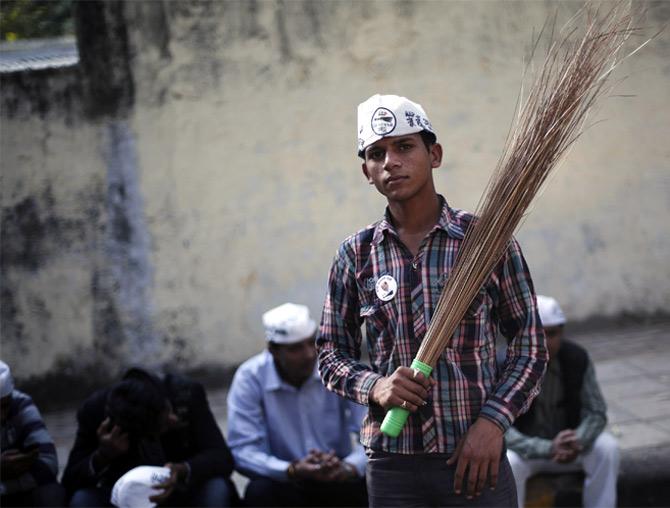 Aam Aadmi Party leader Shazia Ilmi on Sunday said the AAP is thankful to god that they are inexperienced, and added that if having experience in political circles meant buying of votes and distribution of liquor, the AAP is certainly not in favour of such practices.
"If experience means buying votes and distributing liquor, then thank god we are not experienced. Plus, we don't want that kind of experience," Shazia said.
"A lot of people are rooting and fighting for the AAP. This is the fight of the people against the system. This is not about the Congress, the BJP and the AAP, but it is about the people standing up and saying 'we want change'. People are sick of inflation, and, there is no transparency and accountability in the government. We reached out to the people and talked about the real issues which are affecting them," she added.
She also ruled out the possibility of the AAP supporting the BJP to form the next government in Delhi, saying, "There is no question of support. We believe that the Congress and the BJP are same. We have exposed the corruption of both parties. We are fighting against both parties."
Meanwhile, another AAP leader Manish Sisodia praised the performance of his party, but said the result could have been better.
"If a party performs and gets 25-27 seats within a year of its formation, than according to political pundits, it is a good performance," Sisodia said.
"But, I think, that it could have been better. Let the final result come out. It is not a miracle, because in Delhi, the Congress and the BJP had indulged in a lot of corruption. So, this was going to happen. But this time, the results are surely a historic one," Sisodia added.
In Delhi, the AAP is leading in 21 seats, while the BJP is ahead in 24 and the Congress in six seats.
The counting of votes in four states began here this morning amidst tight security and elaborate arrangements made by the Election Commission.
The votes will decide the fate of contesting candidates in Delhi, Rajasthan, Madhya Pradesh and Chhattisgarh where assembly elections were held between November 11 and December 4.
Three time Delhi Chief Minister Sheila Dikshit has forwarded her resignation to the Lt. Governor of Delhi Najeeb Jung, finally accepting that her Congress Party has lost the assembly polls in the national capital.
The Bharatiya Janata Party (BJP) continues to be in the lead in the polls and is more or less certain of returning to power in Delhi after 15 years.
However, the BJP may have to share the responsibility of governance of the Delhi with the Arvind Kejriwal-led Aam Aadmi Party