Biju Ramesh's campaign may be different from what voters in Kerala are used to.
But he is determined to do things his way... or rather, Amma's way.
A Ganesh Nadar/Rediff.com reports from Thiruvanathapuram.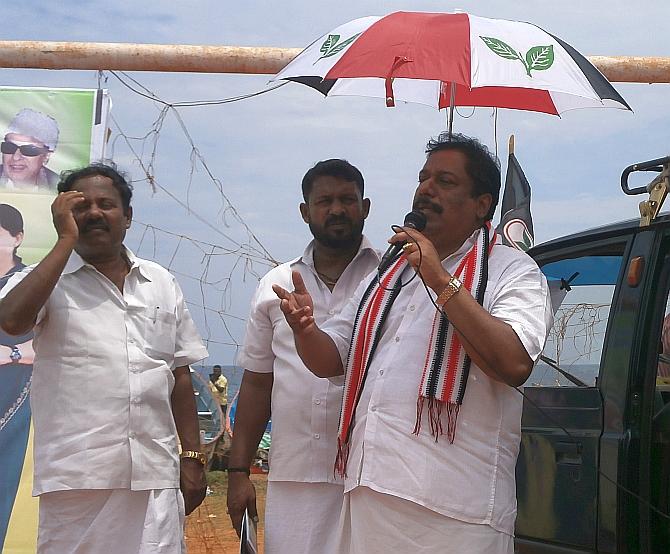 IMAGE: Biju Ramesh, AIADMK supremo Jayalalithaa's hope in Kerala. Photograph: A Ganesh Nadar/Rediff.com
Biju Ramesh is worth Rs 161 crore or Rs 1.61 billion. Clearly, the richest candidate by far in the Kerala assembly elections.
Ramesh, whom folks who follow Kerala politics would know, made headlines for his alleged payment of a bribe of Rs 1 crore (Rs 10 million) to Kerala's then finance minister K M Mani on behalf of the Kerala Bar Owners Association -- of which he is the working president -- to renew the licences of bars forcefully shut down by Oommen Chandy's government.
That controversy compelled Mani, one of the state's most formidable politicians, to resign as minister.
Biju Ramesh is on a different mission these days -- to secure a seat for J Jayalalithaa's All India Anna Dravida Munnetra Kazhagam in Kerala!
He is contesting the election from the state capital Thiruvananthapuram on an AIADMK ticket.
In the idyllic summer setting at Velliathurai, a beachfront area in Thiruvananthapuram, a banner sporting 'Amma' Jayalalithaa and her mentor, the late Tamil movie superstar MGR would otherwise look out of place if not for a beaming photograph of Ramesh next to his symbol, the hat.
Ramesh can't use the AIADMK's two leaves symbol in Kerala; that symbol has been allotted to the Kerala Congress-Mani by the Election Commission.
The liquor baron arrives in a convoy of cars.
After the handshakes, garlands and photography sessions, Ramesh picks up the mike to criticise Chandy's governmment before doing what his party does best in neighbouring Tamil Nadu -- promising countless freebies.
Mixer-grinders. Fans. Goats. Uniforms and books for students. Free rice. Marriage grants. 8 grams of gold...
When this correspondent asks Ramesh how the Tamil Nadu government -- that is, if the AIADMK is re-elected to power -- would use state funds to distribute such sops in Kerala, Ramesh insists, "Amma will give."
I remind the booze baron that Amma intends to bring prohibition to Tamil Nadu, which makes his position as the bar owners association president untenable. Unfazed, Ramesh declares: "I will resign as president of that association."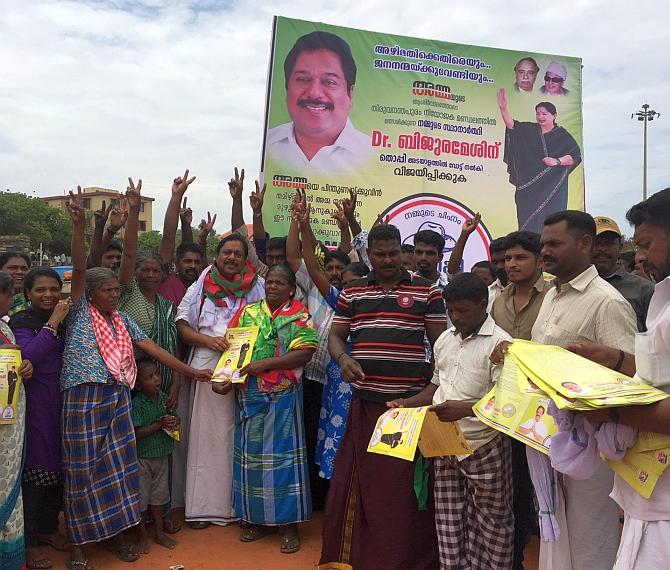 IMAGE: Ramesh's supporters flash the victory sign even as his support staff gears up to distribute more pamphlets. Photograph: Saisuresh Sivaswamy/Rediff.com
Elaborating on how his business interests don't stop him from his social responsibilities, Ramesh highlights several initiatives he has taken to help students with their studies, feeding the hungry and helping the needy.
If he is elected, Ramesh tells me he will mediate in the prickly Mullaperiyar dam issue between Kerala and Tamil Nadu.
Why would people vote for him when there are Congress, CPI-M and BJP candidates also in the fray? Simple! Because they have seen all the good things Amma is doing in Tamil Nadu.
The Velliathurai roadshow didn't stop with Ramesh's exit. Entertainers emerged from a van, dressed as MGR and one of his heroines. The audience finally had something to cheer about.
You can see the Video here.
This is now what voters in Kerala are used to, but Biju Ramesh is determined to do things his way... or rather, Amma's way.