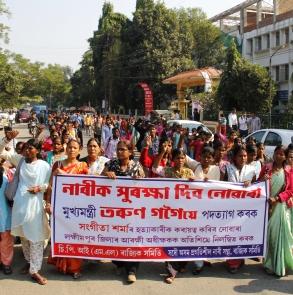 The continuing protests over the alleged rape and murder of a young woman at Boginadi area in North Lakhimpur district on Friday spilled into Guwahati city demanding immediate arrests of the culprits.
The Communist Party of India- Marxist–Leninist on Friday brought out a protests march in Guwahati city and staged a dharna in front of the office of deputy commissioner of Kamrup metropolitan district, demanding exemplary punishment to the culprits behind the murder and alleged rape of the woman.
The CPI-ML activists shouted slogan denouncing failure of the state government to provide adequate safety to women in the State where the 'crime graph against the women is on the upswing'.
The BJP too joined the protests in connection with the case that has attracted national attention. The BJP also staged dharna in front of the office of the deputy commissioner at Lakhimpur district.
The BJP demanded Rs 10 lakh as immediate compensation from the government for the six-year-old daughter of the victim besides arrests of all the culprits involved.
The All Assam Students' Union unit in Lakhimpur continued with its protests for the fourth consecutive day to mount pressure on the government and the police administration to bring the culprits to book.
The Lakhimpur police have already arrested one person, Raju Chutia, who was known to the murdered woman in connection with the case and charged him under Indian Penal Code sections 302, 376 and 365. The protests continued unabated even as police quoting the post mortem report ruled out rape committed on the woman.
The victim suffered injuries on the head and eyes in the incident allegedly took place in November 22 last while the woman was on her way to pick up her daughter from the school.
The first information report lodged by family members of the woman alleged that she had been raped and murdered by at least four men in a tempo. He eyes were gouged out while there were injury marks on her head and neck. She was allegedly thrown out of the tempo and found dumped on the side of a road in seriously injured condition.
There is only one witness who has claimed that the victim had boarded a tempo on her way to her daughter's school as she did every day.
Image: CPI-ML workers protesting on the streets of Guwahati