The chief ministers of Assam and Meghalaya will meet in Guwahati on Wednesday to take forward discussions on resolving border disputes in the remaining six areas.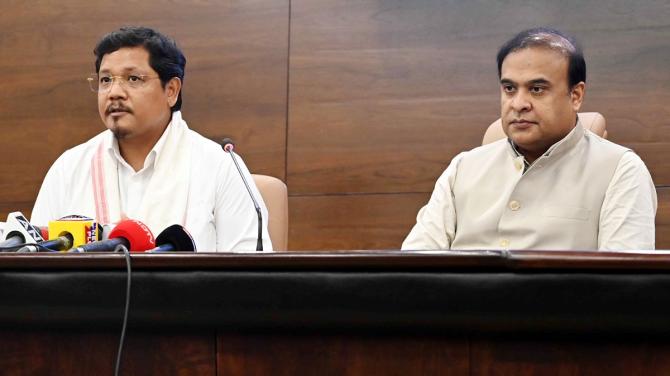 Assam Chief Minister Himanta Biswa Sarma on Tuesday said he and his Meghalaya counterpart Conrad Sangma will also visit the disputed areas later as a goodwill gesture.
"The Meghalaya CM will come here tomorrow and discussion will be held on finding solutions for the remaining six areas," he said.
It will be the first meeting of the second round of talks between the two states, a Meghalaya CMO official told PTI in Shillong.
The first round of border talks concluded in March last year when both chief ministers signed an MoU in Delhi to end the border disputes in six areas. The MoU was inked in the presence of Union Home Minister Amit Shah.
Assam and Meghalaya have a longstanding dispute in 12 areas along the 884.9-km-long interstate border.
The two Northeastern states had signed a memorandum of understanding in March 2022 in the presence of Union Home Minister Amit Shah in New Delhi towards ending the disputes in six areas.
Meghalaya was carved out of Assam in 1972 and had since then challenged the Assam Reorganisation Act of 1971, which is recognised by Assam as its border.
On the progress of talks with Nagaland over oil exploration along the disputed boundary between the two states, Sarma said, "We have sent our proposal to the Nagaland government and we are now waiting for their response.
"We have not pursued the matter much as it was Nagaland who had sought our views. Now it is up to them."
Sarma and his Nagaland counterpart Neiphiu Rio had on April 20 agreed in principle to go ahead with oil exploration in areas along their disputed boundary for the economic benefit of both states.
Assam and Nagaland are exploring all options to bring an end to the decades-old border imbroglio in an amicable manner, an Assam government statement said in New Delhi after the meeting between the two chief ministers.
Rio told reporters later that Assam and Nagaland have in principle decided to go for an MoU on oil exploration in the disputed areas so that oil can be extracted and royalties can be shared between the neighbouring states.
Assam shares a 512.1-km border with Nagaland, with the dispute since the creation of the neighbouring state in 1963 and the matter is now pending before the Supreme Court for a resolution.