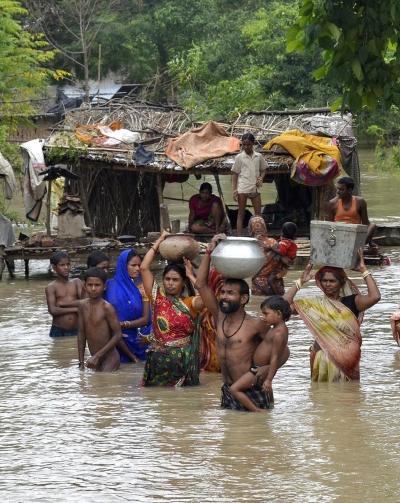 The Indian Meteorological Department has issued a warning about havoc rainfall or a cloud burst hitting Bihar's flood-affected districts in the next 24 to 48 hours, officials said on Sunday.
Bihar has already sounded a high alert in the state. The government has also asked all district magistrates and superintendents of police to maintain a cautious vigil and take precautionary measures, said Water Resources Department Principal Secretary Arun Kumar Singh.
The IMD has warned of havoc rainfall or cloud burst-like situation in Kishanganj, Katihar, Madhubani, Sitamarhi, Supaul, Madhepura, Sitamarhi East and West Champaran, between September 9 and September 13.
Reports from flood-affected districts said that hundreds of people have started leaving for safer places.
The state administration is also worried about a natural calamity worse than the Kosi floods that ravaged Bihar in 2008.
"State Chief Secretary A K Sinha on Saturday, through video-conferencing with the DMs and SPs of flood affected districts, directed them to be on maximum alert and take all necessary measures,"an official of the state disaster department said.
"The police headquarters has asked the SPs to cancel the leave of all police officials to ensure that all of them remain on duty, following a review meeting held by the chief secretary," said a police official.
Sinha has directed the concerned officials in flood-affected districts to identify high-rise places to provide shelter to people if the water level of major rivers increases in the wake of havoc rains.
Sinha also asked the concerned officials to gear up for rescue and relief operations.
Authorities in north Bihar districts have appealed to the people to move to safer places.
"Heavy rains have already been reported in Nepal and at one or two places in bordering districts in the state. Now the intensity of rains will depend on the low pressure in the Bay of Bengal in next 24 to 48 hours," said Patna Met Office Director A K Sen.
Chief Minister Nitish Kumar on Friday said the government was taking the Met Office's warning seriously and will do everything possible to help the people.
The state government has requested the National Disaster Management Authority to send three companies of the National Disaster Response Force for emergency rescue and relief operations.
The death toll in the devastating floods in Bihar rose to 190 on Saturday, though the water level is receding in all major rivers in the state, an official said.
More than six million people have been affected in the floods in 20 districts across the state and thousands of people have been left homeless, the official said.
Image: Flood-affected villagers carry their belongings as they navigate through the floodwaters of Ganga and move to safer grounds, after heavy rains at Patna district in Bihar ' Photograph: Krishna Murari Kishan/Reuters