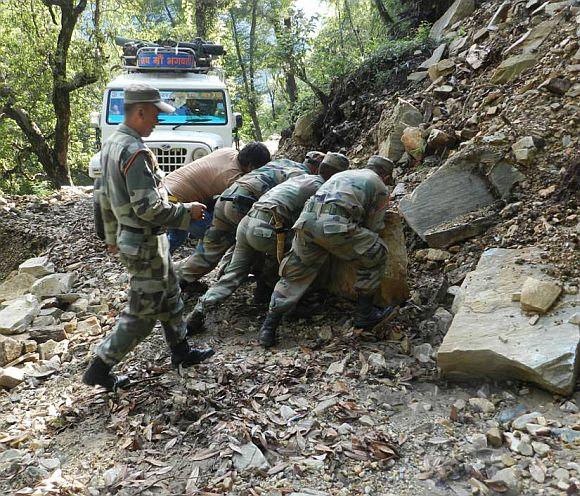 The work of manually extricating the bodies from heaps of rubble in Uttarakhand's worst flood-hit Kedarnath area was stopped on Sunday as no more body was visible to the teams engaged in the operation.
Two more bodies were extricated from the debris in Kedarnath today, taking the total number to 211 since the work began in the area over a month ago. Two hundred and eighty six bodies have been pulled out by the police and the National Disaster Response Force personnel from Kedarnath and adjoining areas including Gaurikund, Rambara and Jangalchatti.
The police said the work of removing the debris lying in the area will resume once the heavy cleaning equipments reach there. Meanwhile, weather across Uttarakhand remained largely clear on Sunday with reports of rains at isolated places.
The state Disaster Management and Mitigation Centre said weather remained dry in most parts of the state except rains at isolated places in Chamoli, from where a landslide was reported in Karnprayag area.
However, there were no reports of any casualty in the incident, they added. Water level of Ganga, which was flowing close to the danger mark at Haridwar, marginally receded on Sunday.
Officials said the river was flowing at 293.50 metre against the danger level of 294 metre. Yesterday, Ganga was flowing at 293.70 metre. After incessant rains over the past few days, Ganga had reached close to the danger mark in Haridwar, inundating some villages in Luxor area.