Syed Firdaus Ashraf sifts through the chronology of controversy in the Aryan Khan alleged drug bust case.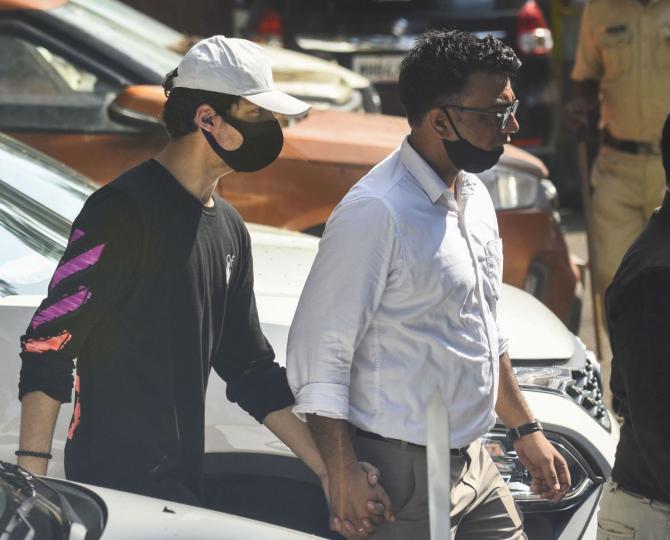 A picture speaks a thousand words goes the saying, and this is what happened to Kiran Gosavi's selfie with Aryan Khan, below.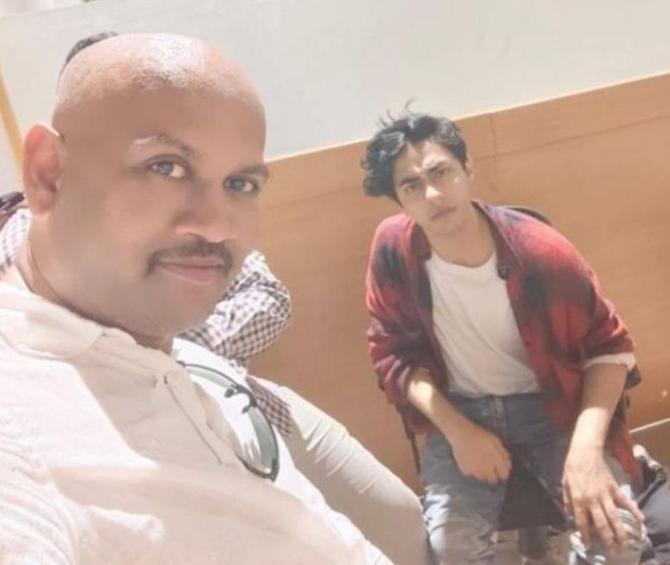 The selfie was clicked by Gosavi soon after Aryan was arrested by the Narcotics Control Bureau on October 2 in an alleged drug case.
This picture opened a Pandora's box and the NCB came under criticism as it was thought that Gosavi was a bureau officer who was clicking a selfie with Shah Rukh Khan's elder son to promote himself.
Only later did it emerge that Gosavi was absconding in a cheating case that the Pune police had filed against him.
Surprisingly, it was he who the NCB had used to trap Aryan Khan.
Gosavi is also listed as one of the witnesses in the cruise drug bust case.
Four days after Aryan Khan's detention, Nationalist Congress Party leader and Minorities Minister in the Maharashtra government Nawab Malik shocked everyone by stating that Bharatiya Janata Party Vice-President Manish Bhanushali was the man seen in the video during Aryan Khan's arrest, left, below, and taking him to the NCB office.
Bhanushali claimed that as an alert citizen he had shared information about the drug party on the cruise ship with the NCB.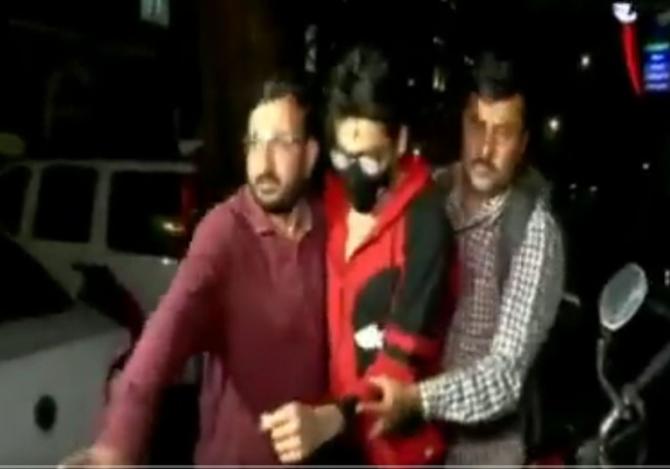 On October 10, Nawab Malik held another press conference in which he dropped another bombshell.
Malik said 11 people had been detained along with Aryan Khan in the NCB raid, but the media was told that only eight people had been picked up.
According to the Maharashtra minister, the three men who were let off were Rishabh Sachdeva, Pratik Gaba and Amir Furniturewala.
Malik further alleged that Sachdeva was let off (external link) because he was the brother-in-law of Mohit Kamboj, who formerly headed the BJP youth wing in Mumbai.
Though Malik was targeting the NCB and its zonal chief Sameer Wankhede, the latter did not respond.
It was well known that Malik had a grudge against Wankhede as he had arrested the minister's son-in-law Sameer Khan on January 9, 2021 in a drug related case.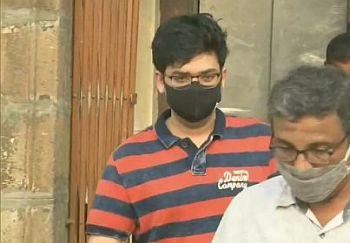 Sameer Khan, above, spent nine months in prison before getting bail.
While allegations and counter-allegations flew between the NCP and NCB, Aryan Khan was denied bail by the lower courts.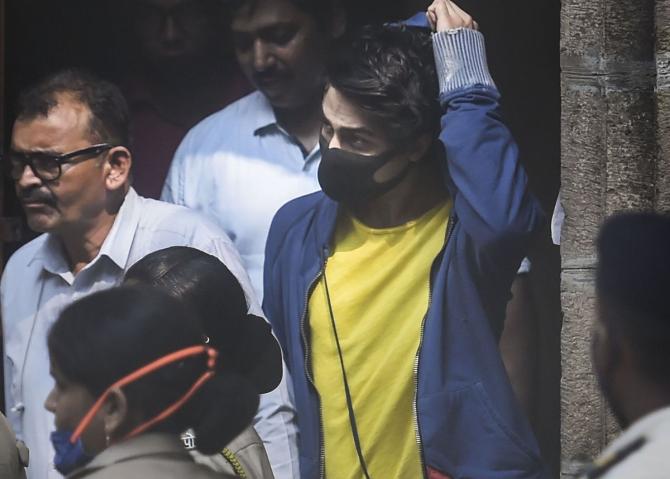 His lawyers pleaded that no drugs had been found on him and there was no reason for him to be in prison.
The NCB's lawyers told the court that it wanted Aryan in jail because he would tamper with evidence if released. The NCB alleged that the 23 year old was involved in a bigger conspiracy involving a drug cartel.
Aryan was sent to Mumbai's dreaded Arthur Road jail on October 8 after spending six days in NCB custody.
Actress Ananya Panday was the next to be summoned by NCB officials over her WhatsApp chats with Aryan, allegedly about drugs.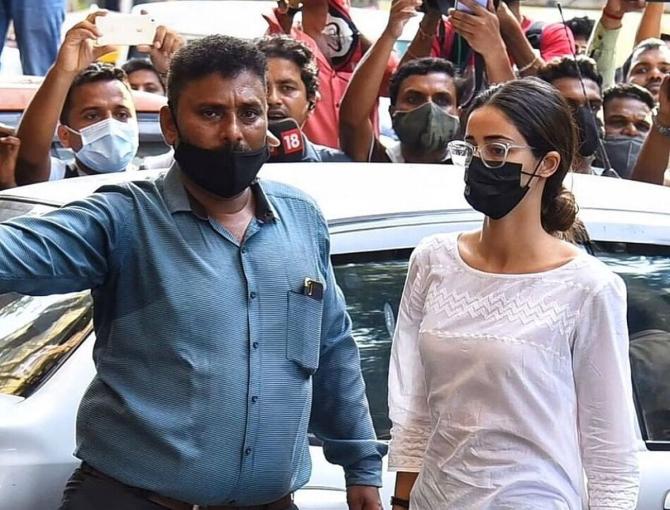 Ananya turned up twice at the NCB office for questioning, but was not arrested. The fledgling movie star reportedly told the NCB officials that she was only joking with Aryan and the sleuths were reading too much into her chats.
The most astonishing twist in the case emerged on Sunday, October 24, when Prabhakar Sail -- who claimed he was Kiran Gosavi's bodyguard -- made a series of shocking revelations.
Like Gosavi, Sail is also one of the NCB's witnesses in the Aryan Khan case.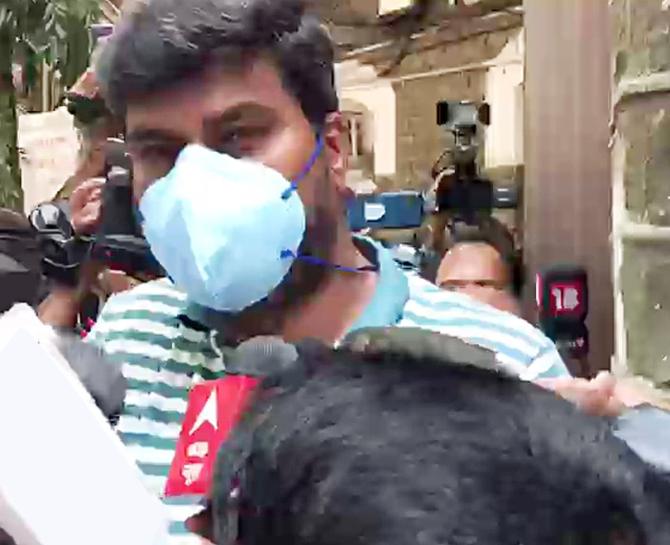 According to Sail, above, Gosavi was acting as a conduit on behalf of NCB zonal director Sameer Wankhede, who had allegedly demanded Rs 25 crore (Rs 250 million) as a bribe from Shah Rukh Khan to release his son.
Sail secretly shot an inaudible video where Gosavi is seen making Aryan Khan talk to someone (external link) known to him.
Sail said he had waited for so long to spill the beans because Gosavi did not pay him his salary and disappeared overnight without informing him. He had started working for Gosavi as a bodyguard in July 2021.
According to Sail, Wankhede and Gosavi made him sign some 10 blank papers after Aryan was arrested.
You can watch the Mirror Now video featuring Prabhakar Sail's alleged revelations here (external link).
Wankhede unsurprisingly denied the shocking allegations against him, but the NCB has ordered a departmental inquiry to inquire into the charges.
Nawab Malik stepped up his attack on Sameer Wankhede the next day, October 25, when he alleged that Wankhede was not a Hindu but a Muslim whose father's name was Dawood Wankhede. He even produced what he claimed was the NCB official's birth certificate.
The Maharashtra minister further alleged that Wankhede had obtained a Hindu caste certificate fraudently and had passed the competitive government examination in the reserved category.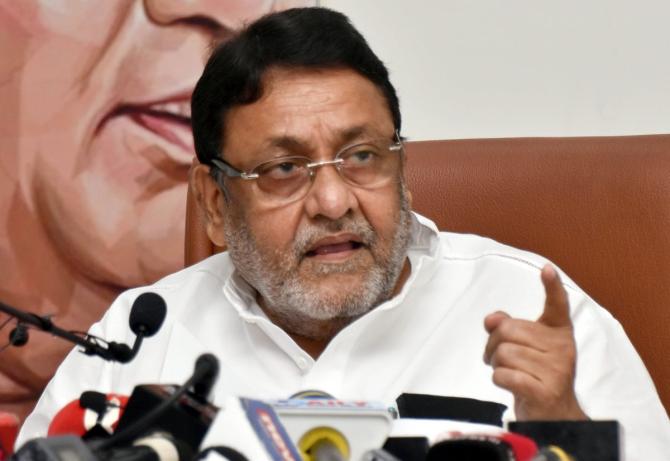 Wankhede, Malik, above, stated, was earlier married to a Muslim doctor, but the couple had divorced, after which he married actress Kranti Redkar who works in Marathi films.
Wankhede's family admitted he had been married to a Muslim and that his mother too was a Muslim, but claimed that him being a Muslim was wrong.
Kranti Redkar tweeted photographs to show the Wankhedes were always Hindus.
Another allegation which Malik earlier made against Wankhede was that he had traveled to Dubai and the Maldives where he met Bollywood personalities.
The public, Malik said, should know what dealings Wankhede had with Bollywood personalities in Dubai and the Maldives.
The minister released an Instagram image of Wankhede shot by his sister Yasmeen where she said that she was going to Dubai.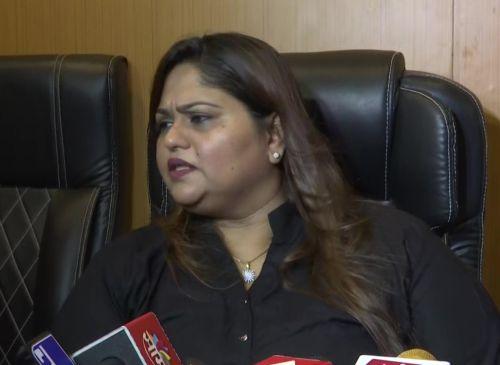 Yasmeen, above, and Sameer Wankhede claimed that they did not go to Dubai, but were only present at Mumbai airport.
Last heard, Kiran Gosavi said he would surrender to the Uttar Pradesh police in Lucknow, because he did not trust the Maharashtra police. However, the UP police refused to arrest the absconder, stating it did not have the jurisdiction to arrest him.
Sail has been given protection by the Mumbai police.
Ananya Panday was to appear before the NCB, but did not turn up, citing ill health.
Sameer Wankhede flew to Delhi, below, the day after Sail's allegations were aired on some news television channels, but claimed he was in the national capital for pre-scheduled work.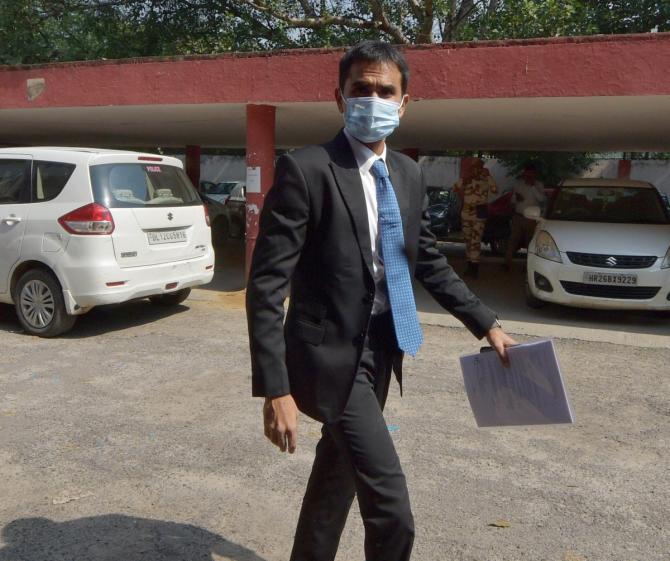 And through all this muck, a 23 year old, on whom no drugs were found, continued to be in a prison, where conditions are so harsh that British courts have not so far cleared the extradition of Vijay Mallya and Nirav Modi, both of who would be incarcerated in the prison in central Mumbai.