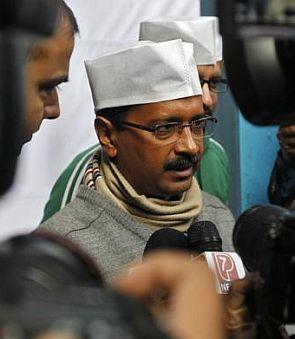 Delhi Chief Minister Arvind Kejriwal, who sat on a two-day dharna outside Rail Bhavan, is unwell and undergoing tests at a hospital in Ghaziabad on Wednesday.

Kejriwal is suffering from acute bronchitis and had fever in the night, sources at the Yashoda Hospital in Ghaziabad said.
A CT scan has been conducted on him at the hospital besides various other tests
Dr Bipin Mittal, the Chief Minister's family doctor, is accompanying Kejriwal.
During his over 30-hour protest, Kejriwal and his cabinet colleagues slept in the open outside Rail Bhavan. Kejriwal was running mild fever on Tuesday as well also.
The Delhi Chief Minister's dharna in the heart of the national capital came to an end last night after two police officers were sent on leave under a neat compromise with the Centre over his demand for suspension of five officials for alleged dereliction of duty.
The protest in the high-security Raisina Hill area ended following an assurance from the Lt Governor Najeeb Jung.
Kejriwal, who had on Monday spent his night on the road and held cabinet meetings with his colleagues in his car, announced that he was calling off the protest following the "victory" achieved by the people of Delhi.