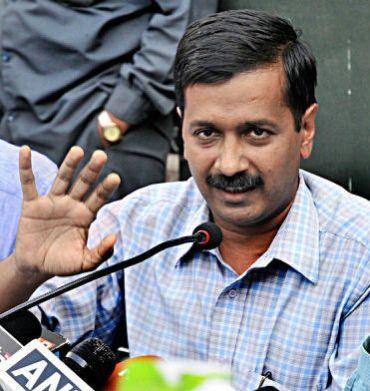 The Aam Aadmi Party government has decided to take up with the Union home minister its demand for the suspension of four police officials for alleged non-cooperation and lapses in duty after the Delhi police chief rejected their call for the said personnel to be penalised.
With the government going into confrontational mode, Delhi Minister Manish Sisodia said they will "fix" the police even if the force did not come under their jurisdiction.
"There are rapes happening in the city, sex and drug rackets are being run openly, but police is doing nothing. We will not stay quiet; this isn't the Sheila Dikshit government. We are being accused of vigilantism, but we are a different government.
"This government won't make any excuses like Delhi police is not under us, they will have to do their duty. The police has to act. We will fix the police even if it doesn't come under us," Sisodia told reporters at the secretariat.
Chief Minister Arvind Kejriwal is expected to meet Home Minister Sushilkumar Shinde in the evening today over the issue.
Earlier in the day, Kejriwal and his Cabinet colleagues Rakhi Birla, Somnath Bharti and Manish Sisodia met Lieutenant Governor Najeeb Jung at his residence where Delhi Police Commissioner BS Bassi was also present along with the four police officials who are under fire from the AAP ministers.
At the meeting, which lasted for about an hour, Kejriwal and the ministers raised the issue of women's safety in the capital while calling for the suspension of the three SHOs and the ACP for their alleged refusal to cooperate.
The LG ordered a high-level inquiry into the cases but the demand for suspension was refused by Commissioner Bassi. Two Delhi ministers, Bharti and Birla, have accused three police officials of non-cooperation in two separate cases.
Bharti has charged that Malviya Nagar police did not cooperate with him about conducting a raid on Nigerian nationals whom he alleged were involved in a drugs and sex racket at Khirki village.
Birla has accused Sagarpur police of shielding the members of a family who allegedly burnt their daughter-in-law over dowry demands.