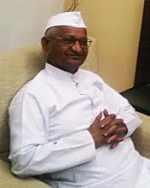 Anna Hazare has alleged that MLA Suresh Jain, who was arrested in connection with the Jalgaon Housing scam, was getting "five-star" treatment and demanded an inquiry against jail authorities.
Hazare wrote a letter to this effect to Additional Commissioner of Police Meera Borwankar, before leaving for the Odisha tour on Wednesday, Hazare's close aide advocate Shyam Asawa said in Ahmednagar on Friday.
Hazare said in the letter that Jain was denied bail by the high court. After being arrested on March 12, Jain has been trying to spend maximum time in hospitals and not in prison.
Jain was brought to Arthur Road jail in Mumbai on November 3, but was immediately admitted to Saint George Hospital where he is getting five-star treatment. Some jail authorities are managing these comforts for Jain, Hazare alleged in the letter and demanded an inquiry against them.
Asawa said the Bhrashtachar Virodhi Jan Andolan, of which he is a trustee, will seek legal action against the special treatment being provided to the accused.
Jain, who was a minister for housing during the Shiv Sena-Bharatiya Janata Party rule in the 1990s, had been arrested for allegedly favouring a builder and indulging in irregularities to the tune of Rs 29 crore.
Meanwhile, in a letter to Maharashtra Chief Minister Prithviraj Chavan, Hazare said he had written to the then CM, concerned minister and officials in 2003 and 2004, seeking action against Jain over his financial irregularities. "However, no action was taken. This shows that the government was backing Jain," Hazare alleged.
"It is now learnt that there is an attempt at the government level to have a "weak" government counsel in the Jain case, to ensure he gets bail," Hazare said.
If such an attempt is made, the masses will have to launch a 'jan andolan' on the issue, he said. "I am aware that you are not corrupt," Hazare wrote to Chavan. "However, backing corrupt people is also corruption," he said.
"It is the duty of the government to reign in corruption. There should be no occasion for people to launch agitations again and again," Hazare said.