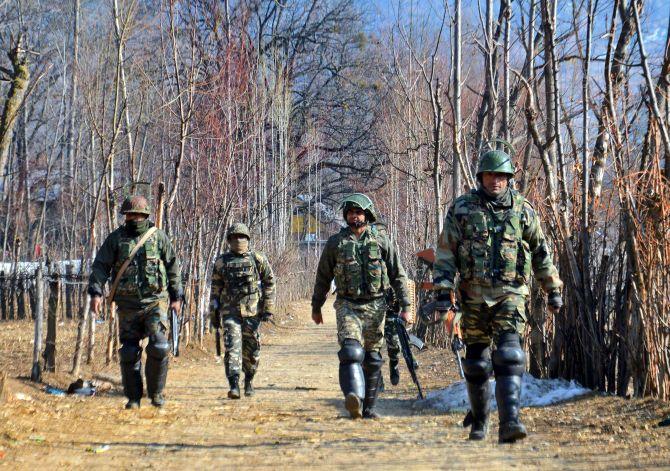 IMAGE: Army personnel move towards the house where terrorists were hiding during an encounter at Kokarnag in Anantnag district of South Kashmir on Tuesday. A civilian was also killed during clashes which erupted at Khudwani area soon after the killing of a local terrorist in the encounter. Photograph: PTI Photo
A Hizbul Mujahideen terrorist was killed while five others were believed to have escaped during an encounter with security forces in south Kashmir's Anantnag district, officials said.
A 22-year-old man was also killed when security forces allegedly fired upon stone-pelting protesters in the native village of the gunned down terrorist in Kulgam district.
The body of the terrorist, identified as Farhan Ahmad Wani, was handed over to his parents for burial in Khudwani village on the border of Kulgam and Shopian where villagers were already agitating over the death of a person killed in a road accident involving a paramilitary vehicle.
Wani's death agitated the crowd further and it started pelting stones at a nearby Army camp, officials said.
They said that the Army started firing in the air initially but had to aim at the crowd when jawans claimed to have been fired upon from the other side, the officials said.
Two persons received bullet injuries with one of them succumbing to his wounds in the hospital, they said.
The deceased has been identified as 22-year-old Khalid Dar.
The other injured man named Yasir, 30, was said to be in a stable condition in the hospital.
A case has been registered in the police station in Kulgam and an investigation initiated, a police spokesperson said.
Reportedly some unidentified terrorists camouflaged in the mob and fired shots towards the Army camp, the police official said.
Giving details of the encounter, officials said that there was an intelligence input that terrorists from Hizbul Mujahideen and Lashker-e-Tayiba had gathered in Pehlipora village in Larnoo, Kokernag.
One terrorist was killed while five others were believed to have escaped, the officials said.
The police spokesperson also confirmed that a 'Hizbul Mujahideen terrorist' had been killed in the encounter in Kokerenag.
Earlier, the police and the Army had claimed to have killed two terrorists in the encounter.
Director General of Police S P Vaid and the Srinagar-based Chinar Corps of the Army had tweeted that two terrorists were killed.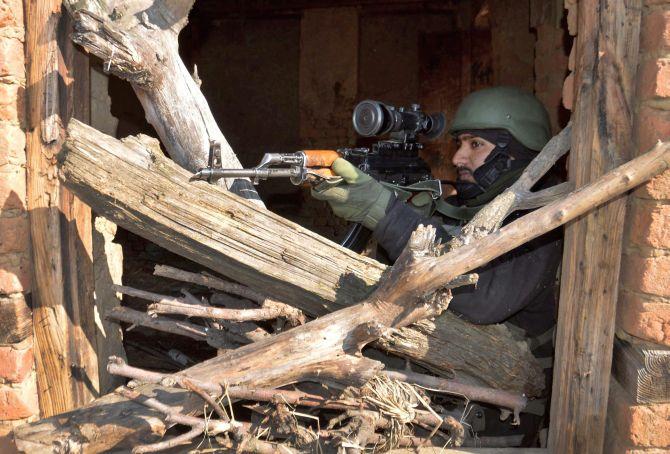 IMAGE: A soldier takes position during the gunbattle with terrorists. Photograph: PTI Photo
The police spokesperson said that the police along with the Army and the Central Reserve Police Force cordoned the area and launched a search operation in Pehlipora village after getting information about the presence of terrorists there.
"During the searches, terrorists hiding in the area fired upon the joint search team. The fire was retaliated," he said.
"One terrorist was killed in the encounter, who was identified as Farhan Ahmad Wani, a resident of Redwani-Khudwani in Kulgam district," he said.
The spokesperson said one INSAS rifle, two magazines and 42 rounds were recovered from the encounter site.
Wani was a 'hardcore stone pelter' and a first information report was registered against him under different sections of the Jammu and Kashmir State Ranbir Penal Code.
He was also involved in many anti-national and unlawful activities, the spokesperson said.
Terror module busted in J&K, 11 nabbed
Meanwhile,security forces have busted a module of terrorists and their over ground workers, arresting 11 people including two ultras who were trying to recruit youngsters into the ranks of various outfits in Sopore area of Kashmir, police said.
Police have arrested two terrorists and busted an OGW module by arresting its nine members who were trying to recruit innocent youths in the ranks of different banned terrorist outfits, a police spokesperson said.
Acting on specific information regarding presence of terrorists in Watlab area near Sopore, a cordon and search operation was launched by police along with Navy's Marine Commandos (MARCOS) and CRPF on January 7, the spokesman said.
"During search operation, two terrorists who were hiding near a school, tried to open fire on the security forces party but they were overpowered and arrested," he said.
These terrorists were identified as Mushtaq Ahmad Chopan alias Haroon and Shuja-ud-din Sheikh, both residents of Tral area in south Kashmir Pulwama district.
They were affiliated with Hizbul Mujahideen.
One AK-47 rifle, one AK magazine, 15 AK rounds, one pistol, one pistol magazine, three pistol rounds and a hand grenade were recovered from them, the spokesman said.
While investigating the case further, names of nine persons surfaced who were working as conduits of these terrorists and had been motivated to join the terrorist ranks.
"These conduits were in contact with the terrorists of South Kashmir --namely Reyaz Naikoo and Hamaad of Hizb and Ali and Qasim of Jaish-e-Mohammad," he added.
A joint party of police and other security forces arrested all the nine OGWs, the spokesman said.
"They were identified as Tajam-ul-Islam Shah, Syed Tamiz-ud-din, Ghulam Nabi Mir, Mudasir Ahmad Mir, Saleem Ahmad Beigh, Muzamil Ahmad Ganie, Showket Ahmad Kaboo (all residents of Sopore), Irshad Ahmad Lone of Seer in Tral area and Humaiz from Kupwara," he added.
Mobile phones, letter pads, posters, recruitment forms and other incriminating documents were recovered from these OGWs, the spokesman said.