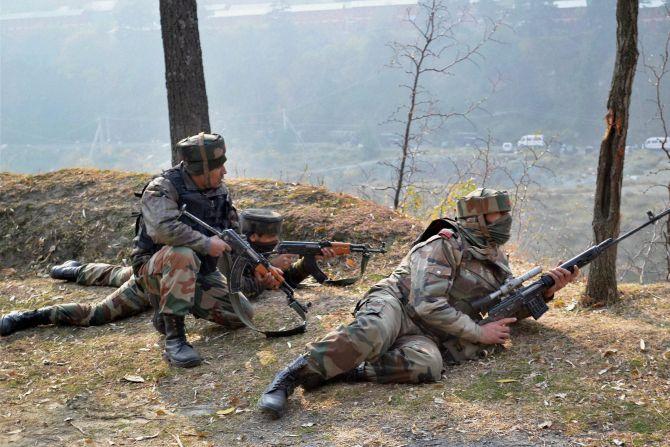 The army on Tuesday thwarted an attack by a Pakistani Border Action Team and killed an infiltrating top Hizbul Mujahideen terrorist in two separate incidents on the Line of Control in Kashmir.
Seven to eight members of the BAT, which generally comprises terrorists and Pakistani soldiers, came close to an Indian Army post in Keran sector with the aid of shelling and firing by the Pakistani troops from their posts, army sources said.
The attackers were forced to retreat to Pakistan-occupied Kashmir without causing any damage on the Indian side, the sources said.
"A BAT action was attempted by seven to eight armed intruders (from PoK side) today at 1.00 pm in the area of Keran Sector (Kupwara). The armed intruders came near own posts," a source said.
He said the BAT intruders were supported by nearby Pakistani posts with mortar shelling and small arms firing.
"The BAT action was aimed at causing damage to our post but it was effectively thwarted and the armed intruders were forced to retreat," the source said.
"Fire assault towards enemy positions was underway," the source added.
Earlier, an army official in Srinagar said the Pakistani troops targeted Indian posts by firing light weapons in Keran sector.
There have been BAT attacks on Indian posts along the LoC earlier.
In June, a BAT attack was carried out 600 metres inside the Indian territory in Poonch sector of Jammu and Kashmir in which two jawans were killed along with one of the attackers.
In a separate incident, top Hizbul Mujahideen terrorist Abdul Qayoom Najar was killed in a gunbattle with the Army near the LoC in Uri sector while he was trying to sneak into Kashmir to take charge of the outfit, a senior police officer said.
It was a major success for the security forces as Najar was wanted for his alleged involvement in more than 50 killings, including that of policemen in Hygam area of Sopore, in the past 17 years, the official said.
"Najar was killed as security forces foiled an infiltration bid in Lachipora area near the LoC this morning," Baramulla Senior Superintendent of Police Imtiyaz Hussain said.
"He (Najar) was returning to Kashmir to take over the command of Hizbul Mujahideen in the wake of elimination of top commanders of the outfit by security forces," Hussain said.
"Najar started his career as a terrorist with the killing of Hizb commander Abdul Majid Dar in 2003," he said.
The officer said Najar was called to the base camp in Pakistan-occupied Kashmir by his handlers in 2015 after he fell out with the Hizb leadership.
"He was now tasked with reviving the outfit in Kashmir in the wake of elimination of top militants," he said.