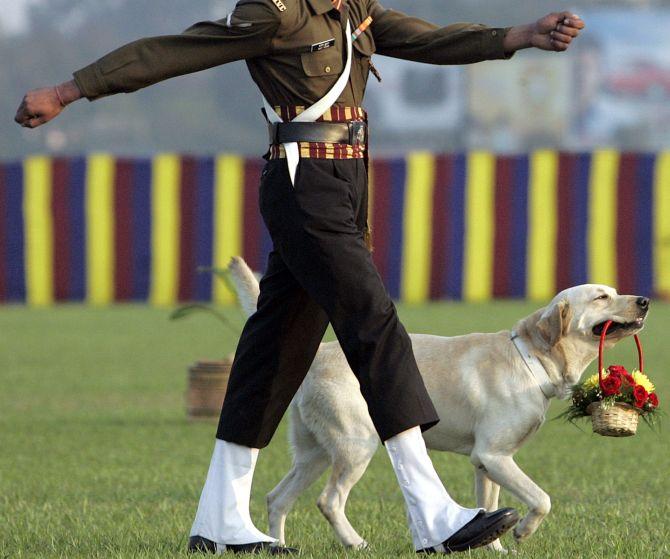 Indian army dogs, who have saved the lives of numerous soldiers in counter-terrorism and counter-insurgency operations, will march down the Rajpath for Republic Day Parade on January 26 after a gap of 26 years.
The Army, which has about 1,200 Labradors and German Shepherds, has selected 36 canines to march down the Rajpath with their handlers.
Mansi, a four-year-old Labrador, and her Kashmiri master Bashir Ahmed War from the Territorial Army had made the country proud when they made the supreme sacrifice while gallantly fighting a group of heavily-armed infiltrators in the high altitude area along the Line of Control in Tangdhar sector in August last year.
A war dog training school was raised on March 1, 1960 in Meerut. Basic and advance training to dogs and their trainers on specialised jobs like explosive detection, mine detection, tracking, guarding and assaulting is imparted at the Remount and Veterinary Corps Centre and College.
The army dogs and their trainers of this Corps have won one Shourya Chakra, six Sena Medals, 142 Chief of the Army Staff Commendation Cards, six vice chief of the army staff commendation cards and 448 general officer commanding-in-chief commendation cards.
The motto of the Corps is 'Pashu Seva Ashmakam Dharm'.
The Army had come under severe criticism from the common people and dog lovers across the world after it was revealed in a Right to Information reply last year that dogs, horses and mules are put to sleep after their retirement.
Following a Public Interest Litigation, the government had in September informed the Delhi high court that it would come out with a policy on the issue within six months.
Though a final policy is yet to be adopted, the Army has stopped further killing of ageing animals, except for those suffering incurable, terminal diseases and injuries.
The development came at a time when many countries, including the United States and France, have special rehabilitation schemes for military dogs. The gallantry medal was awarded to a police dog killed after the Paris attacks last year.
The Indian army dogs are trained in sniffing bombs, hunting down enemies, locating secret places and fetching evidence. The Army generally uses Labradors, German Shepherds and Belgian Shepherds, depending on the altitude and weather, besides the nature of assignment which may include routine patrol to explosives detection.