Eight columns of the Army and Assam Rifles have been deployed in Assam, including capital Guwahati to control the ongoing violent protests against the Citizenship Amendment Bill and the amended Citizenship Act.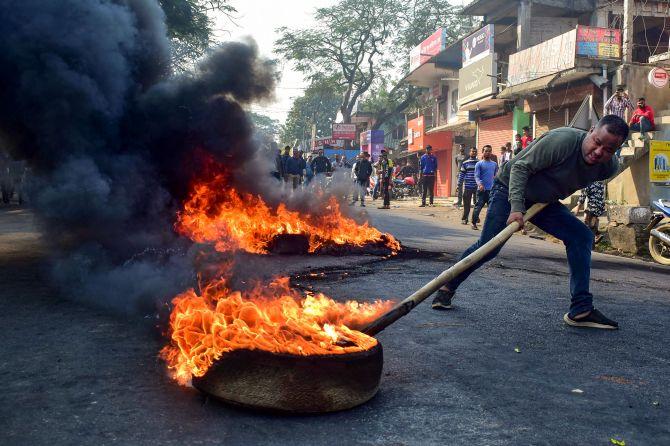 Defence Public Relation Officer Lieutenant Colonel P Khongsai said the Army and Assam Rifles were requisitioned by the civil administration in Morigaon, Sonitpur and Dibrugarh districts besides Guwahati to arrest the deteriorating law and order situation.
The Army was called out on Wednesday as the protestors turned violent over the Bill.
President Ram Nath Kovind gave his assent to the bill on Friday which made it an act.
"Till now, a total of eight columns have been requisitioned which include one in Bongaigaon, one in Morigaon, four columns in Guwahati and two in Sonitpur," he said.
Each column of the force comprise of around 70 personnel.
All Army and Assam Rifles columns have managed to restore normalcy in the areas they were deployed and have been continuously working to aid the civil administration, Lt Col Khongsai added.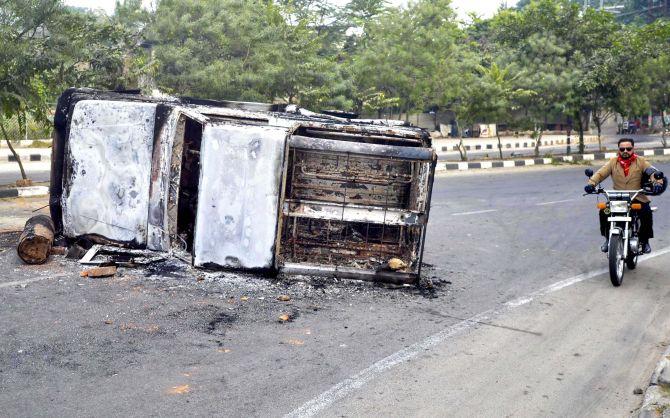 Assam is witnessing one of the most violent protests by the people in its history with three railway stations, post office, bank, bus terminus and many other public properties being set ablaze or totally damaged.
After the Rajya Sabha passed the Citizenship (Amendment) Bill, the state erupted in uncontrolled protests, in which agitators engaged in pitched battle in almost every major city or town, forcing the administration to impose curfew.
Several towns and cities were placed under indefinite curfew, including Guwahati, the epicentre of protests, besides Dibrugarh, Tezpur and Dhekiajuli.
Night curfew was imposed in Jorhat, Golaghat, Tinsukia and Charaideo districts.
The Assam government has transferred 10 officials in the rank of superintendent of police in the wake of the violent protests, an official order said.
SP (SB) Aparna N was posted as SP Majuli district in place of Hitesh Ch Ray, who is shifted as Commandant 9th APBn Barhampur, Nagaon.
The Commandant of 9th APBn Barhampur Rajmohan Ray has been shifted to Guwahati Police as the DCP (Operations).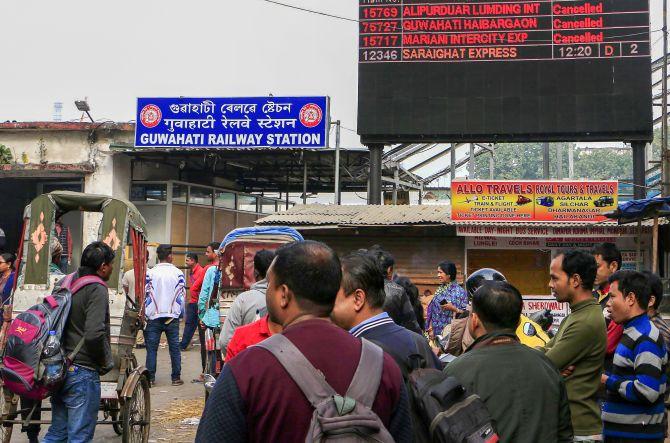 Mugdhajyoti Dev Mahanta, the SP of Cachar district, will be the new SP of Sonitpur, the order said.
Sonitpur's SP Kumar Sanjit Krishna is posted as SP of Karimganj in place of Manabendra Dev Ray, who will be the new SP of Cachar.
Rajveer of the Railway Police's SP has become the SP of Lakhimpur, while Harekrishna Nath will move from Lakhimpur to 2nd APBn Makum as its Commandant.
The Commandant of the 2nd APBn Makum Singharam Mili is transferred to Bongaigaon as the new SP, while Subodh Kumar Sonowal will move as SP of Railway Police from SP Bongaigaon.
Three Additional Director General of Police and several Superintendents of Police were transferred on Thursday.
People trying to store essentials; potato sold at Rs 80 a kg
Meanwhile, people trying to stock up essentials faced trouble as long queues were seen in front of grocery stores, automated teller machines and petrol pumps in Guwahati where an indefinite curfew is on for the second day in a row, but people seem to hardly care about it.
However, goods in the stores, cash in ATMs and fuel in petrol pumps are vanishing fast on Friday and several items are being sold at exorbitant prices and several people are blaming the government for their plight.
"I purchased one kilogramme of potato for Rs 80! Other essential items have also become expensive. We are seeing this day because we elected this government," Numal Kalita told PTI while shopping at Choy Mile market in Guwahati.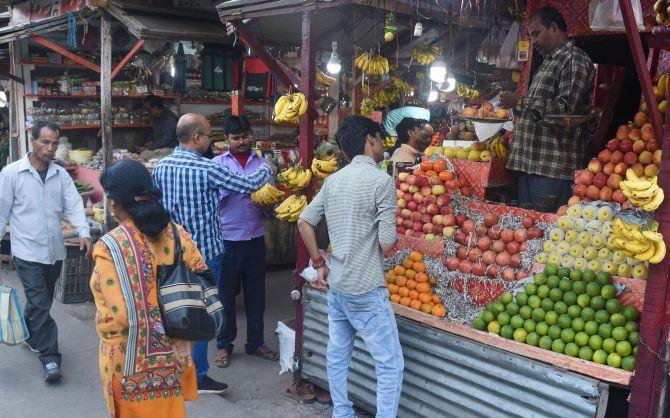 It is very unfortunate that they are working in an autocratic manner and not listening to the people, he said.
A rumour of lifting of the curfew also pushed people outside to procure goods.
"For the last two days, there was no milk and bread at home. Rice was also getting exhausted. Thankfully, the shop was open today and I could buy some items," senior citizen Namita Lahkar said.
Lahkar rushed to her neighbourhood grocery shop after watching the news of lifting of the curfew on Friday morning.
Some local news channels reported that the curfew has been relaxed from 6 am to 1 pm in Guwahati, but an Assam Police spokesperson later said there was no such order.
However, a large number of people could be seen in the streets of the city despite the curfew and many of them are buying poultry products and fish.
People also queued before ATMs across the city to withdraw cash, but most of the machines have dried up.
Citizens are also running from one petrol pump to another to refuel their vehicles.
A journalist has even gone to neighbouring Meghalaya, almost 30 kilometres away from Guwahati, to get petrol, but in vain.
"As all the depots in Guwahati are closed, I decided to try my luck Byrnihat in Meghalaya. I requested many depots that I am from the media, but all expressed helplessness citing strict orders from police not to sell fuel," he said.
Finally, he got petrol in a pump here, but only after a two-hour-long wait.
People are stranded at the Guwahati airport, inter-state bus terminus and railway stations and the authorities have started distributing food packets, drinking water and medicines among them, official sources said.
"I am waiting here since morning. I have to reach home at Nagaon by tonight as my sister is getting engaged on Sunday. But there is no public transport," Khagen Bora said while waiting at Khanapara here to go to his home town Nagaon, 120 km from the state capital.