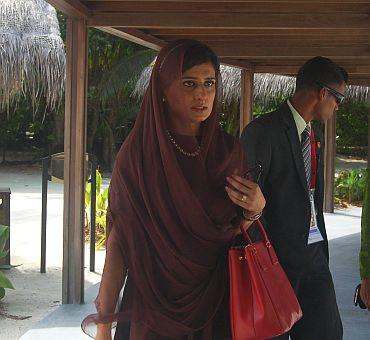 Pakistan Foreign Minister Hina Rabbani Khar, currently in Maldives attending the SAARC summit, told rediff.com on Thursday that anything between India and Pakistan is spectacular, when asked whether the two countries could expect anything impressive from the meet.
She also clarified that the Pakistani cabinet has approved normalisation of trade relationship between the two countries via granting of the 'Most Favoured Nation' status to India.
Prime Minister Manmohan Singh and his Pakistani counterpart Yousuf Raza Gilani, also attending the summit, are expected to jointly address the media shortly.
On Wednesday, External Affairs Minister S M Krishna enroute to Maldives told the media that the trust-deficit between India and Pakistan has been 'shrinking' and that it was a very positive environment to pursue talks.
The Indian delegation, led by PM himself, is expected to hold bilateral talks with its neighbours during the summit.
Image: Pakistan Foreign Minister Khar in Addu, Maldives
Photograph: Prasanna D Zore/Rediff.com