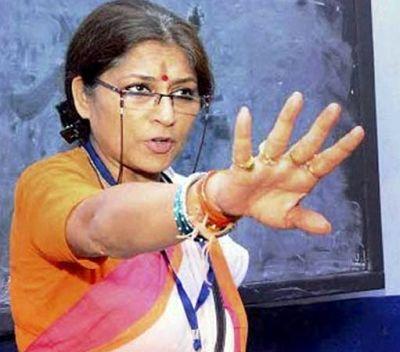 'Even Mamtadi would react to the rising statistics of crimes against women and rape with the same horror as I did if she stops being a politician protecting her position and looks at the problem as a woman.'
Rajya Sabha MP Roopa Ganguly created a huge furore recently by daring 'those flattering West Bengal Chief Minister Mamata Banerjee and the Congress to send their wives and daughters to Bengal'.
If they survived for 15 days without being raped, Ganguly -- an actress-turned-Bharatiya Janata Party politician -- said she would take back her statement.
Trinamool Congress leader Sobhandeb Chattopadhyay was quick to respond, asking Ganguly to reveal the number of times she had been raped in Bengal before portraying a negative picture about the state.
When Subhash K Jha spoke to Ganguly, the MP is unrepentant and on the way to Raiganj in the interiors of Bengal to meet a rape victim.
"The gentleman from Mamatadi's party who wanted to know how many times I've been raped in Bengal is a nice man. He was only trying to please his party's high command," says Ganguly.
"Anyone in Bengal who speaks against the Trinamool Congress is an enemy," Ganguly alleges.
"Even Mamtadi would react to the rising statistics of crimes against women and rape with the same horror as I did if she stops being a politician protecting her position and looks at the problem as a woman."
"As for me, I am not afraid of being abused or beaten," says Ganguly who continues to travel in Bengal unescorted.
"I have been assaulted brutally. As many as 16, 17 men assaulted me while three women pinned me down," the MP says.
"I have felt hard blows on my back and elsewhere. It is not a pleasant situation to be in," Ganguly adds.
"And no woman, or for that matter man, would like to be humiliated and brutalised in this way. But I am not giving up."
"I will address myself about the plight of the unprivileged Bengali woman who is under threat constantly," she declares.
It bothers her that rape is being made a political issue.
"Rape and the safety of women should concern every right thinking person," emphasises Ganguly who heads the BJP's Mahila Morcha.
"It should be above all party ranks and political issues and also above state-level politics. I am appalled that I am being questioned as a BJP politician about rape cases in BJP-run states," she adds.
"A rape is a rape in any state. Instead of calling me names, everybody in Bengal should be concerned about the rising crimes against women in the state," Ganguly says.
"Even as I made that statement on no woman being safe in Bengal, an 8-year-old girl was raped. There were 34,000 cases of atrocities against women reported last year. It shames me and shocks me that we politicise the issue of safety of woman," she adds.
To what does Ganguly attribute the rising crimes against women in Bengal?
"Unemployment."
"The men are jobless. The women they want to marry don't want to be married to men without financial security. In frustration and rage, these men become predators," the MP points out.
"I am called a mad woman because I speak for all those women who do not have a voice in Bengal," she says.
"There are numerous FIRs (First Information Reports) and cases against me. I am threatened all the time. Do I fear for my life? No."
"If I did, I would sit at home and not go out to meet another rape victim," the MP says.
"As for my security, I don't have any. What can a few security guards do to protect me when I am attacked by dozens of goons?" she asks.
About the life she has chosen for herself, Roopa Ganguly has no regrets.
"The day I decided to get into politics I gave up my acting career completely. I had three films on the floors when I decided to devote myself to politics. I quickly completed those films and here I am," says the actress who the nation first noticed as Draupadi in B R Chopra's television serial from the 1980s, Mahabharat.
Ganguly says her husband and family are fully supportive of her political career.
"They don't stand with me when I am being showered with blows. But they are with me all the way and they don't hesitate in correcting me when I am going wrong," says Ganguly.
"I just hope Bengal will awake to the growing crimes against women before it is too late."