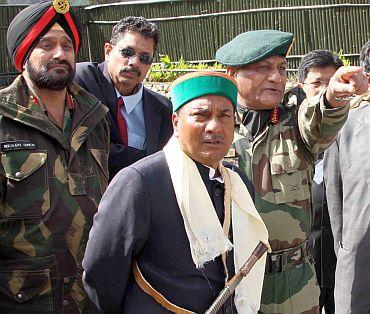 Indian Defence Minister A K Antony is 'very suspicious of the private sector', leading Indian business baron Jamshyd N Godrej has said.

Godrej was responding to the contention by Wolff Gross, a Northrup Grumman official, who said the Indian defence ministry was suffering from the 'doctrine of unintended consequences.'

Gross, a spokesman for the American defence manufacturing giant, was a participant at a discussion on 'US-India Strategic Dialogue: Priorities and Next Steps' organised by the Washington, DC think tank Centre for Strategic and International Studies' Wadhwani Chair on US-India Policy Studies last week.

He said, "The Indian defence ministry, in its attempt toward its transparency, created a monster for itself called the Defence Procurement Procedures that has tied its own hands and has certainly tied the hands of Indian private industry."

Godrej said, "I entirely agree with you on the defence procurement issue… It really has tied the government in a lot of knots. We need some clarity in that."

He continued: "I have no simple solution or answer. The defence minister is from all appearances very suspicious of the private sector. And so, he is very happy to go on buying more from the public sector and I think that his political background also -- being from Kerala (a traditionally Communist state) and a trade union leader, etc, all that is playing its part. So, it's a very complex situation. The private sector is still not being encouraged. No major defence contract has been given to the private sector. The private sector has been very much marginalised. Not only the foreign investment limits in this sector, but even for Indians."

He recalled: "I was at a meeting with the prime minister and (Indian business tycoon) Mr (Ratan) Tata made this statement to the prime minister basically saying, 'Why are you so distrustful of the Indian private sector? There is no reason for you to do that. We are completely Indian in that sense. We are not a foreign group, so why would you not let us make an aircraft system or a missile system, etc, just as you would let a government-owned company do it?' And there is actually no answer to that currently."

Godrej said that most of the private sector work when it came to the defence industry "is at the periphery in terms of systems and subsystems, etc. Nobody really makes a complete (system). But there are a number of groups in India, which have expressed very keen interest to get into that sector, and people are making small moves in that direction."

Earlier, in his opening remarks too, Godrej pilloried the government for not giving the private sector an entry into the defence industry.

"If you look at the strategic industries -- specially to do with nuclear and defence -- the Indian private sector has been very keen to get into much deeper in defence manufacturing and equipment. (But), as yet, the government has not opened the doors even for the Indian manufacturers, leave aside foreign investment," he said.

He added: "The policy environment in India is a problem and I think that anybody coming into India investing knows that very clearly… There will be problems and you have to work your way through it."