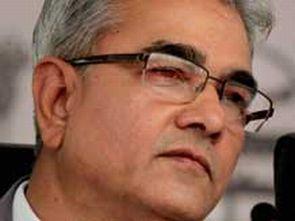 A fresh public interest litigation was Monday filed in the Supreme Court claiming that the appointment of Shashi Kant Sharma as the Comptroller and Auditor General of India was arbitrary and made without any transparency.
The latest challenge to Sharma's appointment comes just over a week after the apex court on May 23 agreed to hear a similar plea.
This fresh petition has been filed on behalf of former Chief Election Commissioner N Gopalaswami, former chiefs of Naval Staff Admiral (retd) R H Tahiliani and Admiral (retd) L Ramdas, former Deputy CAG B P Mathur and five other retired bureaucrats.
The petition filed through advocate Prashant Bhushan has sought setting aside of Sharma's appointment contending that it was made arbitrarily and "without any system for selection, without any selection committee, any criteria, any evaluation and without any transparency".
In their petition, the nine petitioners, have also sought a direction to the Centre to "frame a transparent selection procedure based on definite criteria and constitute a broad-based non-partisan selection committee, which after calling for applications and nominations would recommend the most suitable person for appointment as CAG".
Their petition stated they had filed an RTI application on February 21, 2013 "seeking information as to what is the system of appointment, whether there is any selection committee, what is the zone of consideration, what are the criteria, etc" and added that the response given by Director in the Ministry of Finance of May 2013 "clearly shows there is no search committee, no criterion, no system, no call for applications or nominations and is therefore arbitrary 'pick and choose'."
One of the several grounds raised in the fresh plea filed Monday, is that during his tenure as DG (Acquisitions) or as the Defence Secretary, Sharma cleared several major defence purchases some of which have turned out to be a source of embarrassment to the Centre.
The defence deals referred to in the petition include procurement of 12 VVIP choppers from Anglo-Italian firm AgustaWestland for the Indian Air Force at a cost of Rs 3,500 crore, which according to Italian investigators involved kickbacks of at least Rs 350 crore.
Another defence contract cleared during Sharma's tenure as DG (Acquisitions) was the conversion of Russia's discarded warship Admiral Gorshkov into a full modern aircraft carrier, renamed INS Vikramaditya, originally scheduled to be delivered by August 2008 at a total cost of $947 million and the cost of which has "shot up" to $2.9 billion with the vessel still not delivered, the petition said.
The Tatra truck deal, which erupted into a major scam, was also cleared by Sharma, the petition said.
The petition submitted these major defence acquisitions made over the last few years were cleared by Sharma and now as CAG if he audits these expenditures, it would lead to a conflict of interest as he would be auditing the defence purchases he himself sanctioned.
The petition also contended that as CAG he can't recuse himself from the auditing process as there no such provision under the constitution or the CAG Act and also since the CAG is a single-member body and if he recuses himself an audit won't be possible.
The petition also claimed that the apex court's judgement dismissing the appointment of Central Vigilance Commissioner P J Thomas applies to this case as well.
The petitioners included Kamal Kant Jaswal, Ramaswamy R Iyer, E A S Sarma, all former secretaries in various government ministries and also S Krishnan, former Indian Audits and Accounts Service officer and M G Devasahayam, former IAS officer.
Sharma was sworn in as CAG by President Pranab Mukherjee on May 23. The 61-year-old 1976-batch Bihar cadre IAS officer replaced Vinod Rai, who had demitted office a day earlier after a five-and-a-half year tenure.
The very same day, the apex court had agreed to hear in July, the plea filed by advocate M L Sharma, who challenged Shashi Kant's appointment on the ground that he had in the last 10 years held several sensitive positions in the defence ministry that dealt with significant procurements and appointing him as CAG would mean a conflict of interest.