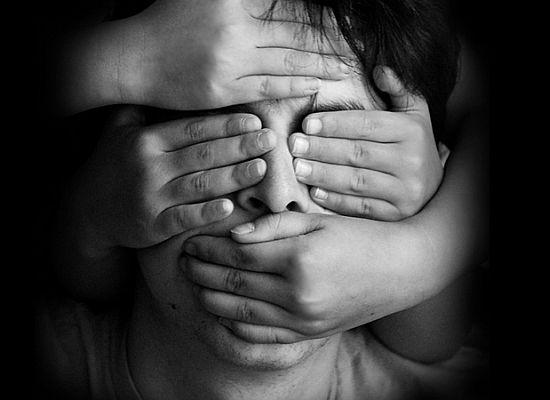 A five-year-old girl was allegedly raped by a peon inside the premises of a private school in Shahdara in New Delhi, the police said on Sunday.
The accused, Vikas, 40, was arrested on Saturday night, Deputy Commissioner of Police, Shahdara, Nupur Prasad said.
The incident came a day after a seven-year-old boy's throat was slit by a bus conductor of a Gurugram school for allegedly resisting sexual assault -- an incident that sent shock waves across the country.
Vikas, who is from Jharkhand and has two teenage children, had been working in the school for the last three years. Previously he was a security guard there, the police said.
According to them, before being employed in this school, Vikas had worked in two other schools.
The accused took the girl to an empty classroom around noon on Saturday and raped her.
He also threatened her of dire consequences if she informed anyone about it, the police said.
The girl later complained to her mother about bleeding and pain. She was taken to a hospital where medical examination confirmed sexual assault, they said, adding the victim has been sent for counselling.
According to the police, the girl, during counselling, said she was assaulted by 'a man wearing a cap' and also described his physical attributes.
On the basis of this description Vikas was nabbed, they said, adding it is being probed whether he had abused any other students in the past.
So far he has got no criminal history, the police said.
Following the incident, the Delhi government has ordered a magisterial inquiry into it and Chief Minister Arvind Kejriwal said a protocol would be chalked out for all city schools to ensure safety of students.
The Delhi Commission for Women (DCW) has issued a notice to the school seeking details of Vikas' appointment and whether his police verification was carried out.
DCW chief Swati Maliwal tweeted, '1st Praduman & now dis! Wat wil parents do if horrific crime occur in schools. DCW issuing notice to this school! R team's assisting victim (sic)'.
Meanwhile, the girl's uncle told PTI, "She was discharged from the hospital today. She is emotionally quite disturbed. The school administration is not taking responsibility for the act that took place inside their premises."
The girl's mother demanded that the school should be shut down and the uncle too echoed similar views, saying, "The accused has been arrested but we want the licence of the school to be revoked."
"Strict action should be taken against the management of the school and a case should be registered against them for negligence," he said.
The girl's father repairs sewing machines. Her elder brother studies in another school.
Recalling Saturday's incident, the victim's uncle said the girl came back from school looking scared and initially did not tell her mother anything.
Later, she went to the washroom where her mother saw bloodstains. She was taken to Chacha Nehru Hospital in Geeta Colony where it was confirmed that she had been sexually assaulted, he said.
The girl's uncle said one of the teachers from the girl's school had come to visit her, but she was not ready to accept that the incident could have happened inside the school.
"Nobody else from the school turned up to meet us since then," he said, adding they are not going to send her back to that school.
"We keep hearing slogans of 'Beti Bachao, Beti Padhao'. How can we send our girls to school when they are so unsafe?" he said.