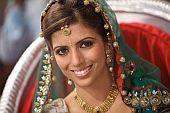 A "merciless and evil" South African man who murdered Anni Dewani -- a Swedish with Indian origin on a honeymoon -- in 2010, allegedly at the behest of her UK-based NRI husband, was on Thursday sentenced for life.
Xolile Mngeni, 25, was found guilty of firing the shot that killed 28-year-old Anni who had been married for just a fortnight when she was killed here in November 2010, in what prosecutors say was a faked hijacking.

Sentencing Mngeni, Judge Robert Henney said he was a "merciless and evil person" who had "committed an act of premeditated murder and robbery with aggravating circumstances" and deserved the maximum sentence.
Mngeni's co-conspirators said they helped kill her on the orders of her husband Shrien Dewani, 32, who is from the English city of Bristol.
Shrien denies plotting to kill his wife.
Mngeni, a suspected small-time drug dealer, plotted with two co-accused to carry out the murder for 15,000 Rand ($1,700), the court in Cape Town heard.
Mngeni seemed shocked when his sentence was handed down, and stood wide-eyed, with his mouth agape while Anni's father, Vinod Hindocha, wept, as the judge handed down the sentence in the case that drew international headlines.
The judge said Mngeni, who suffered from a rare form of brain cancer, showed no remorse for killing Anni.
"He had no regard to her right to freedom, dignity, and totally disregarded and showed no respect to her right to life by brutally killing her with utter disdain," the judge said.
The South African authorities have secured convictions for all three local men involved in organising and carrying out the attack.
The focus will now shift back to the UK, where Shrien is fighting extradition to South Africa on mental health grounds.

He is due to face another extradition hearing next year.