Social activist Anna Hazare on Tuesday put off his proposed hunger strike over various demands including appointment of Lokpal, saying the government had taken certain steps that had shown a "ray of hope".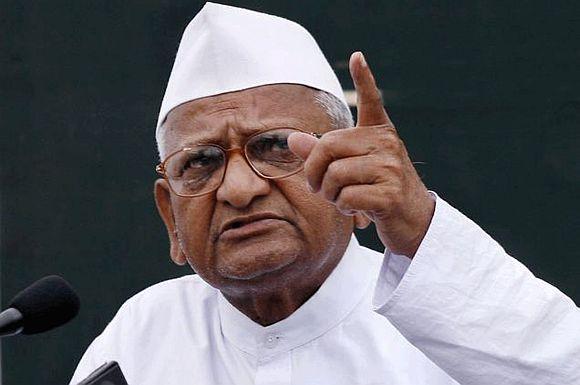 Hazare made the announcement after Maharashtra Water Resources Minister Girish Mahajan called on him at his village, Ralegan Siddhi, in Ahmednagar district.
According to sources, Hazare has received a letter from Union Minister of State in Prime Minister's Office Jitendra Singh. However, the contents of the letter are not known.
The 81-year-old anti-corruption crusader, however, warned that he would launch the protest on January 30, the death anniversary of Mahatma Gandhi, if the government failed to fulfil his demands.
Mahajan, who reached out to Hazare on behalf of the Centre and the Maharashtra government, said the demands raised by the activist were discussed and the key points fulfilled, as he urged the latter to call off the protest.
"Some things seem to be on the plus side. The government has taken some steps towards (appointment of) Lokpal, Lokayukta and (declared) one-and-a-half times rates for farmers' produce... we see a ray of hope. Hence, I have decided to put off the protest (for now)," Hazare told reporters.
He said though there was a "ray of hope", certain issues he had flagged remained unresolved.
"Today is Gandhiji's birth anniversary and January 30 is his death anniversary. In case the issues remain unresolved, I would launch the protest on Gandhiji's death anniversary... and it would be a nationwide protest," Hazare said.
Besides the appointments of Lokpal and Lokayukta, Hazare has been demanding constitutional status for the Commission for Agricultural Costs and Prices.
He has also pitched for turning the CACP into an autonomous body.
Hazare has been demanding a fair price for the dairy farmers and implementation of the recommendations of the Swaminathan Commission.
Mahajan handed over a letter of Maharashtra Chief Minister Devendra Fadnavis to the anti-graft activist and discussed the demands raised by the latter at a meeting that lasted for two hours in Ralegan Siddhi village.
Hazare said the Centre had set the ball rolling on the appointment of Lokpal.
"A search committee is already working to appoint the Lokpal. The nation will hopefully have a Lokpal at the central level and Lokayuktas in states very soon to check corruption," he told reporters.
Mahajan told reporters about the steps being taken by the state government for the welfare of farmers.
Meanwhile, an official said the government was ready to make changes in the Atal Pension Yojana as sought by Hazare.
Hazare had earlier demanded that the Central Agriculture Commission be given autonomy on the lines of the Election Commission of India.
Hazare, the face of the Lokpal movement, had gone on a 12-day hunger strike earlier in 2011.
He had subsequently launched a fast, which had garnered a huge support across the country. The then United Progressive Alliance government had later passed the Lokpal bill.