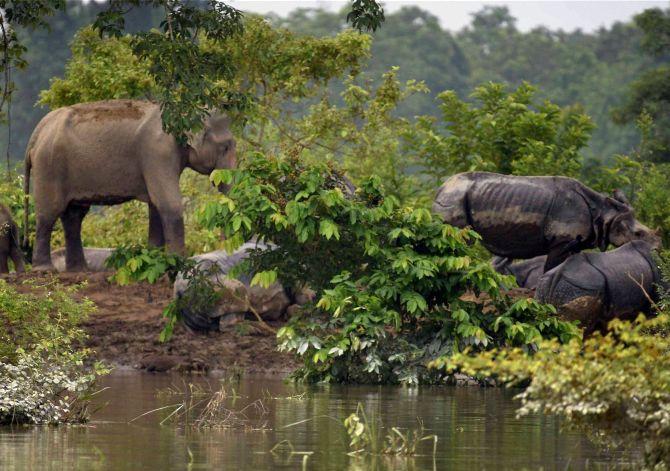 With 70 per cent of its area still submerged, 215 animals including 13 rhinos and a Royal Bengal Tiger have so far lost their lives at the Kaziranga National Park in Assam, a senior forest official said on Monday.
Due to the flooding, the animals in the UNESCO World Heritage Site are facing food shortage within the park, compelling them to go out to the nearby hills, tea gardens and even human habitations in search of food, KNP Divisional Forest Officer Rohoni Ballav Saikia said.
As the floodwater from the National Park recedes, Saikia said, the carcasses of animals were being recovered from its four ranges.
He said the two waves of floods this year have caused death of endangered species. "Till date, we found bodies of 13 rhinos, 188 hog deer, four elephants, two swamp deer, four wild boars, two buffaloes, one Royal Bengal Tiger and one Porcupine. All died due to drowning."
The Kaziranga National Park is spread over 430 sq km.
Image: Rhinos and elephants are facing a tough time at Kaziranga National Park in Assam with 70 per cent of the park still being submerged. Photograph: PTI Photo