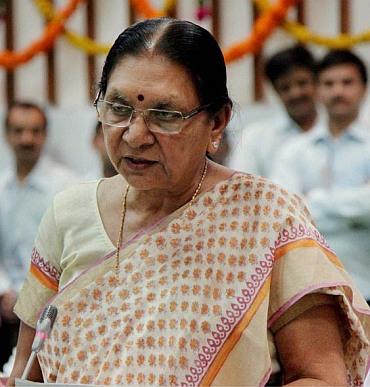 Anandiben Patel, a close Narendra Modi associate, was on Thursday sworn-in as the first woman chief minister of Gujarat.
Teacher-turned-politician Patel, 73, who was revenue, urban development and disaster management minister in the Modi Cabinet, was administered the oath of office and secrecy by Governor Kamala Beniwal.
Modi quit as chief minister on Wednesday after leading the Bharatiya Janata Party to a stunning victory in the General Election. He is to be sworn in as India's next prime minister on Monday.
Patel promised to carry forward the glorious traditions set by Modi and leave no stone unturned for the development of the state. Addressing members of the BJP Legislature Party after her elevation, Patel said she would live up to the expectations of the party and people in her new role as chief minister.
"I shall not betray the trust imposed in me by the party and people of the state, there shall be no let up in the progress of Gujarat," a teary-eyed Patel said in her acceptance speech in chaste Gujarati at the Town Hall here.
Along with Patel, six ministers of Cabinet rank and 14 Ministers of State were also sworn-in at the ceremony attended by a galaxy of top BJP leaders including Prime Minister-elect Modi, BJP president Rajnath Singh, party patriarch L K Advani, Murli Manohar Joshi, Sushma Swaraj, Venkaiah Naidu, Nitin Gadkari and Subramanian Swamy.
Punjab Chief Minister Prakash Singh Badal of Shiromani Akali Dal, an ally in the National Democratic Alliance, along with Shivraj Singh Chouhan, Vasundhara Raje Scindia and Raman Singh were also present.
The six Cabinet ministers who were sworn-in are Nitin Patel, Raman Vora, Bhupendrasinh Chudasama, Saurabh Patel, Ganpat Vasava and Babu Bokharia. Portfolios of the ministers are likely to be announced later in the day.