Khalistan sympathiser Amritpal Singh's uncle and driver have surrendered before the Jalandhar police, even as the Punjab government extended the suspension of mobile internet and SMS services till Tuesday noon, officials said.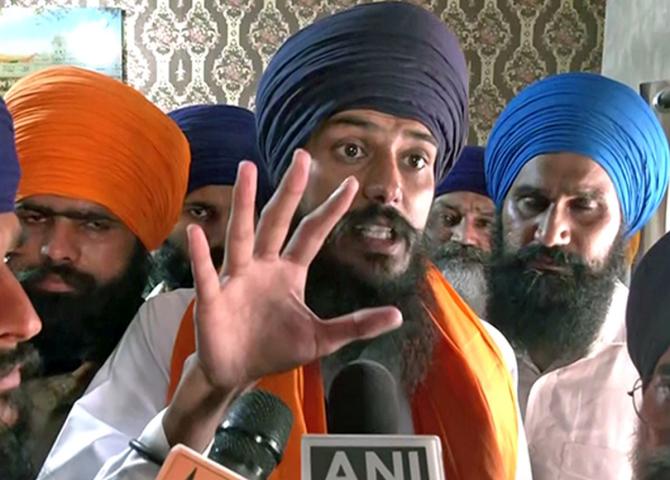 The hunt for the radical preacher entered the third day on Monday as the state police tightened the security blanket to nab him at the earliest.
According to police, Amritpal's uncle Harjit Singh and driver Harpreet Singh surrendered near a gurdwara in Mehatpur area in Jalandhar late Sunday night.
"The hunt for Amritpal is still on," Jalandhar SSP (Rural) Swarandeep Singh said.
The Punjab government extended the suspension of mobile internet and SMS services till Tuesday noon.
"It is directed that all mobile internet services (2G/3G/45/5G/CDMA/GPRS), all SMS services (excluding banking and mobile recharge) and all dongle services provided on mobile networks, except the voice calls, in the territorial jurisdiction of Punjab shall be further suspended from March 20 (12.00 hours) to March 21 (12.00 hours) in the interest of public safety, to prevent any incitement to violence and to prevent any disturbance of peace and public order," according to an order of the Home Affairs Department and Justice issued on Monday.
The broadband services are not being suspended so that banking facilities, hospital services and other essential services are not disrupted, said the order issued by the additional chief secretary.
The state authorities had on Saturday suspended the internet and SMS services till Sunday noon. Later, the curbs were extended till Monday noon.
Meanwhile, Amritpal's Mercedes is learnt to have been seized by police. Earlier, two vehicles of the preacher's convoy were seized.
Police on Saturday had launched a major crackdown against Amritpal and members of his outfit 'Waris Punjab De'.
The elusive preacher, however, gave police the slip and escaped their dragnet when his cavalcade was intercepted in Jalandhar district.
Police on Sunday had conducted flag marches and searches across Punjab, arresting 34 more supporters and shifting four men in custody to a jail in far-off Assam.
During the ongoing crackdown operations against elements of Amritpal-led 'Waris Punjab De' and persons attempting to disturb peace and harmony in the state, the state police has so far arrested 112 people.
The crackdown came weeks after Amritpal and his supporters barged into the Ajnala police station near Amritsar, extracting an assurance that an arrested man would be released.
With the state on high alert, senior officers of Punjab police have asserted that the law and order situation is under control and appealed to the public not to lend an ear to rumours.
Police on Sunday also said that it had registered an FIR against Amritpal and his supporters for breaking through a police checkpoint and another related to the recovery of a firearm in the vehicle found in a Jalandhar village.
Amritsar Rural police had also registered another FIR Saturday night under the Arms Act after the arrest of seven of the preacher's associates in that district.
Police had warned that strict action would be taken against anyone spreading rumours, saying it was monitoring fake news and hate speeches from different countries, states and cities.
The crackdown follows the FIR registered a day after the storming of the Ajnala police station on February 23.
The radical preacher and his supporters were accused of spreading disharmony, attempt to murder, attacking police personnel and obstructing public servants in discharge of their duties.
Six police personnel, including a superintendent of police, were injured in Ajnala.
Opposition parties have flagged the incident as a sign of the Aam Aadmi Party government's 'failure' to maintain law and order and expressed fears that Punjab could slide back to the days of militancy.
Dubai-returned Amritpal became the head of 'Waris Punjab De', which was founded by actor and activist Deep Sidhu who died in a road accident in February last year.