A fresh first information report (FIR) has been filed against Amritpal Singh for extortion and rioting following a complaint by the 'granthi' of a gurdwara in Jalandhar where the pro-Khalistan preacher changed his clothes and fled on a bike to escape the police crackdown on his outfit.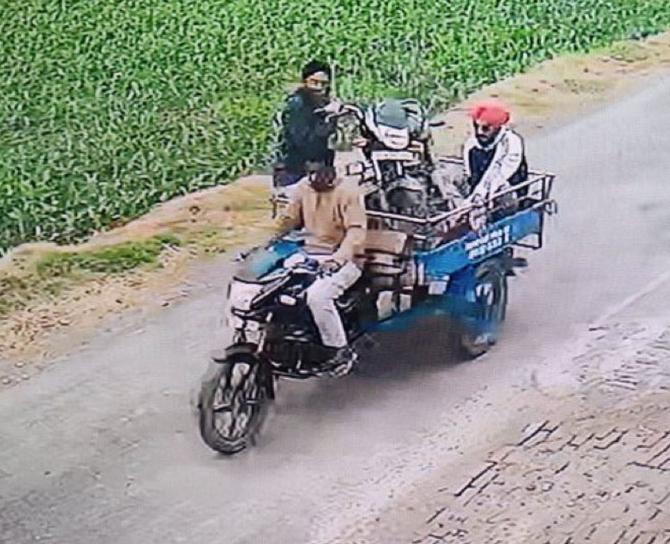 Police said the fugitive spent around 45 minutes at a gurdwara in Nangal Ambian village.
Ranjit Singh, the granthi (Sikh priest), said in his complaint with police that the 'Waris Punjab De' chief and his three aides entered the gurdwara and demanded clothes of his son at gunpoint to change his appearance.
The priest said Amritpal Singh threatened to kill him and his family when he refused to give clothes.
They were carrying a pistol and .315 bore rifle, said Ranjit Singh.
Following the complaint, police have registered a case against the radical preacher and four of his unidentified aides under various Indian Penal Code sections including 386 (extortion by putting a person in fear of death), 506 (criminal intimidation) and 148 (rioting) and also under the Arms Act at Shahkot police station in Jalandhar.
Meanwhile, a fresh image of the fugitive surfaced online and showed him on a motorised cart with his bike and the person who rode it. It was not clear whether the bike ran out of fuel or developed some fault.
Police said the bike on which Amritpal Singh fled was recovered on Wednesday near a canal in Jalandhar.
CCTV footage have shown his close aid Papalpreet driving the motorcycle with Amritpal riding pillion.
Police said they used link roads to avoid the police gaze.
A police team has reached Jallupur Khera, Amritpal Singh's native village in Amritsar, where they met some of preacher's family members.
The team included two deputy superintendent of police rank officers.
The team is believed to have questioned the family members in connection with the Amritpal Singh case.
Amritpal Singh had managed to give police a slip after changing his vehicle.
Police said he was initially in his Mercedes vehicle but later switched to a Brezza SUV.
In a photo that appeared on social media, he was seen riding pillion on a bike wearing a pink turban and black goggles, suggesting that he tried to change his appearance to get away from the eyes of police.
The stringent National Security Act has been invoked against Amritpal Singh, the Punjab government has told the high court.
Police said a lookout circular and a non-bailable warrant have also been issued against him.
Police have released seven pictures of Amritpal Singh in different looks and appealed to people to help them trace him.