'Punjab is a border state and no one knows the ISI's game plan. It can stoop down to any level.'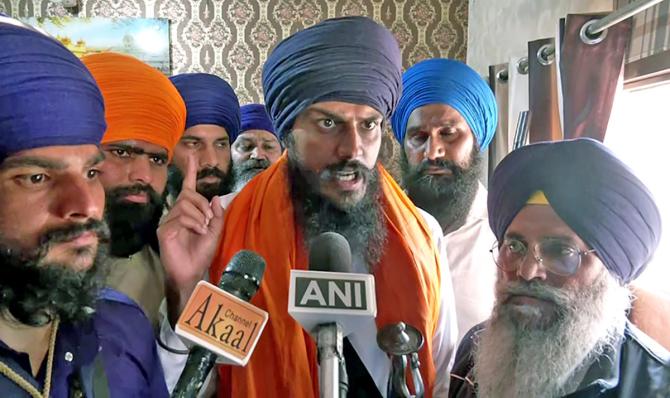 "Write this in capital letters -- KHALISTAN WILL REMAIN A DISTANT DREAM FOR PAKISTAN AND ITS ALLIES, THE ANTI-INDIA FORCES. IT WON'T EVER MATERIALISE," former Punjab DGP Shashi Kant tells Prasanna D Zore/Rediff.com.
Has the Punjab police and law and order machinery capitulated to a band of armed radicals?
It is indeed a failure on the part of the entire civil and police administration. When such a law and order situation comes up, as per law, the police authorities have to take permission from the civil authorities to use force. I am not aware if any member of the magistracy was on ground there.
In a nutshell, it was a collective failure of the police, civil administration and also the political leadership. This was the failure of the entire system in Punjab.
I am saying the entire system because it is not confined only to the law and order machinery. It is a failure on the part of political leadership for not taking certain tough political decisions.
You said there is a deliberate attempt to disturb peace in Punjab in the first part of the interview. Who is behind this?
Answering that question is difficult at this point of time. It will only be in the realm of conjecture; right now there is no hard evidence.
Like I said, it seems strange that one particular person who has been in the transport business in Dubai, suddenly descends in the political arena of Punjab and attains that kind of position and build up.
It is possible that the ISI is trying to build up another Frankenstein's monster here. Then there is an immense political blame-game going on.
What measures should the Punjab and Union governments adopt to nip Amritpal's threats in the bud?
Let the governments also rack up their brains (LOL).
Governments have wide powers. They should take recourse to them only if they are serious. A weak legged approach will be disastrous.
Punjab is a border state and no one knows the specific game plan of the ISI. It can stoop down to any level. Their aim is to create anxiety, panic and disturbance in Punjab, in particular.
Are we returning to that kind of a situation (which requires a serious response like imposition of President's rule in Punjab) is the question we must ask ourselves now?
Maybe.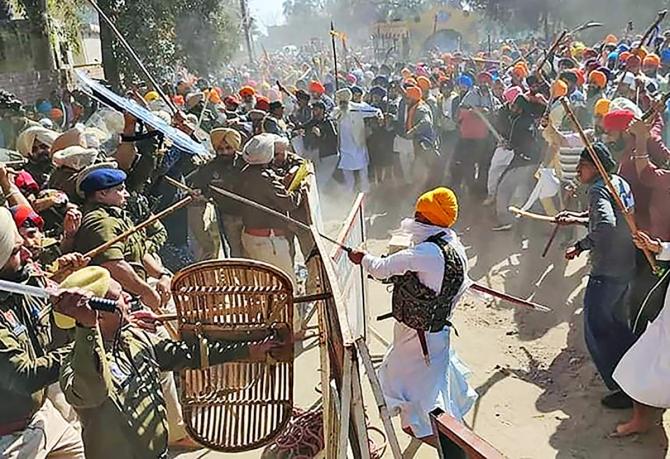 Is Amritpal Singh really Bhindranwale 2.0 in the making? Who is financing Waris Punjab De?
Definitely he is trying to. (It is) too early to talk about his financial backing. It will require a deep probe by the concerned agencies.
Does the attack on the Ajnala police station rekindle hopes of those who want to revive the Khalistan separatist movement in Punjab?
I am sure that anti-national forces are hoping for that.
But again, and write this in capital letters -- KHALISTAN WILL REMAIN A DISTANT DREAM FOR PAKISTAN AND ITS ALLIES, THE ANTI-INDIA FORCES. IT WON'T EVER MATERIALISE.
People of Punjab have suffered a lot. They saw what happened in the '80s (when the state suffered its worst bout of terrorism). There is no question of (revival of demand) of Khalistan; these people are basically trying to just make money this way or that way. This is not rekindling as you put it. They are just trying to keep the sparks flying so that they can get funds and make profits.
How dangerous is this incident for a state which has a first time chief minister at helm with no real experience of handling situations like the one presented by the attack of radical elements on the Ajnala police station?
Nobody learns leadership at birth. Everybody learns while on the job. Politicians are no exception, but they need to be statesmen.
I would say the political leadership should only broadly set the goal. There are officers and bureaucrats with vast experience in handling such situations and they should make it happen but within the Constitutional framework of our country.
But sadly most politicians are only concerned about their vote banks and political future. They need to rise above their politics.
Let the police and administrative officers do their jobs as mandated by the law and Constitution.