A major revamp of Uttar Pradesh unit of BJP is likely in the coming month. And nobody in the party hierarchy has an idea about what's going on in party president Amit Shah's mind.

Sharat Pradhan/Rediff.com reports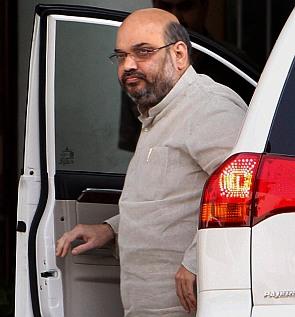 The coronation of Amit Shah as the Bhartiya Janata Party national president is likely to be followed by large-scale changes in the party organisation in Uttar Pradesh.
Having been credited with the sweep that the party witnessed at the recent Lok Sabha election in UP, where the BJP bagged as many as 73of the 80 seats, Shah is now understood to be entrusted with the task of repeating the performance at the 2017 state assembly election.
While other states where assembly elections are due around the same time are also on his agenda, UP figures on top of his list of priorities.

Sure enough, if his mentor Narendra Modi's march to power was routed via UP, Shah hopes to further consolidate his position as the party supremo by ensuring unprecedented performance in the country's most populous state.
Party insiders have already started speculating a major overhaul in the state BJP organisation in the coming month.

While Shah may not replace state chief Laxmi Kant Bajpai, who has worked in close coordination with the former throughout the Lok Sabha elections, the rest of the executive is bound to witness complete overhaul.
Among those like to be anointed with a key position is Sunil Bansal, who was brought in from Rajasthan by Shah well before the Lok Sabha poll.

Then given the charge of organisation secretary, Bansal remained Shah's close confidante during the campaign, supervising the control room set up in Lucknow.
It was Bansal who handpicked a team of young IT professionals to handle the social media 'war room" at the state party headquarters.

Significantly, only very few existing state BJP leaders were involved in the campaign.

Shah rarely consulted party veterans. Instead, he chose to work entirely with his own team.
This was perhaps the first time in state BJP's history that stalwarts like Kalyan Singh, Kalraj Misra, Lalji Tandon or even Rajnath Singh were not attributed an iota of credit for the party's grand success in the election.
There is a section of the state leadership which feels that Shah had hogged much of the credit he did not deserve.

"It was not as if BJP did very well in Uttar Pradesh alone; after all the party held complete sway over Rajasthan and Madhya Pradesh where there was no Amit Shah. Sure enough, all the credit goes to Narendra Modi himself. None other than Modi could have mobilised such a massive mandate," a veteran BJP leader, now leading a retired life, pointed out.
Yet, with Shah having emerged as the 2014 election hero, there is no doubt that he alone would call the shots for a total revamp in the party organisation in UP. Since Shah enjoys Modi's unflinching confidence, his view is bound to prevail.
While the new executive is expected to include a larger number of youth, what nobody in the party hierarchy is able to figure out are the probable names.

"You see there is complete crisis of suitable names to don the mantle of the party's young leadership. The only names that can come to one's mind are sons of established leaders who were fast fading out," observed a senior insider.

According to him, "some new faces for the party executive may be handpicked from the Rashtriya Swayamsevak Sangh."
Prominent names doing the rounds are Rajnath Singh's son Panklaj Singh and Lalji Tandon's son Gopalji Tandon -- both of whom were already holding positions in the organisation set up already.

While Kalraj Misra was hoping to get his son Amit a ticket for the assembly seat vacated by him in Lucknow, he is also understood to be lobbying to get his former personal assistant Vijay Pathak -- now a spokesperson -- key position in the party organisation.

Former state BJP president Om Prakash Singh was also vying for a party position for his son Anurag Singh while former senior vice president Satya Deo Singh was also actively trying to push the case of his son Vaibhav Singh.
Perhaps the only young leader who has established himself without a prominent father or Godfather in the party is Dinesh Sharma, currently doing a second stint as the mayor of Lucknow.
However, only time will tell whether the party will end up the Congress way of entrusting key positions only to sons of veterans or truly hunt for talent.