A commotion erupted at Delhi University and Ambedkar University in New Delhi on Friday as students attempted to screen the controversial BBC documentary on the 2002 Godhra riots, even as the police and the varsity administration intervened to scuttle the move.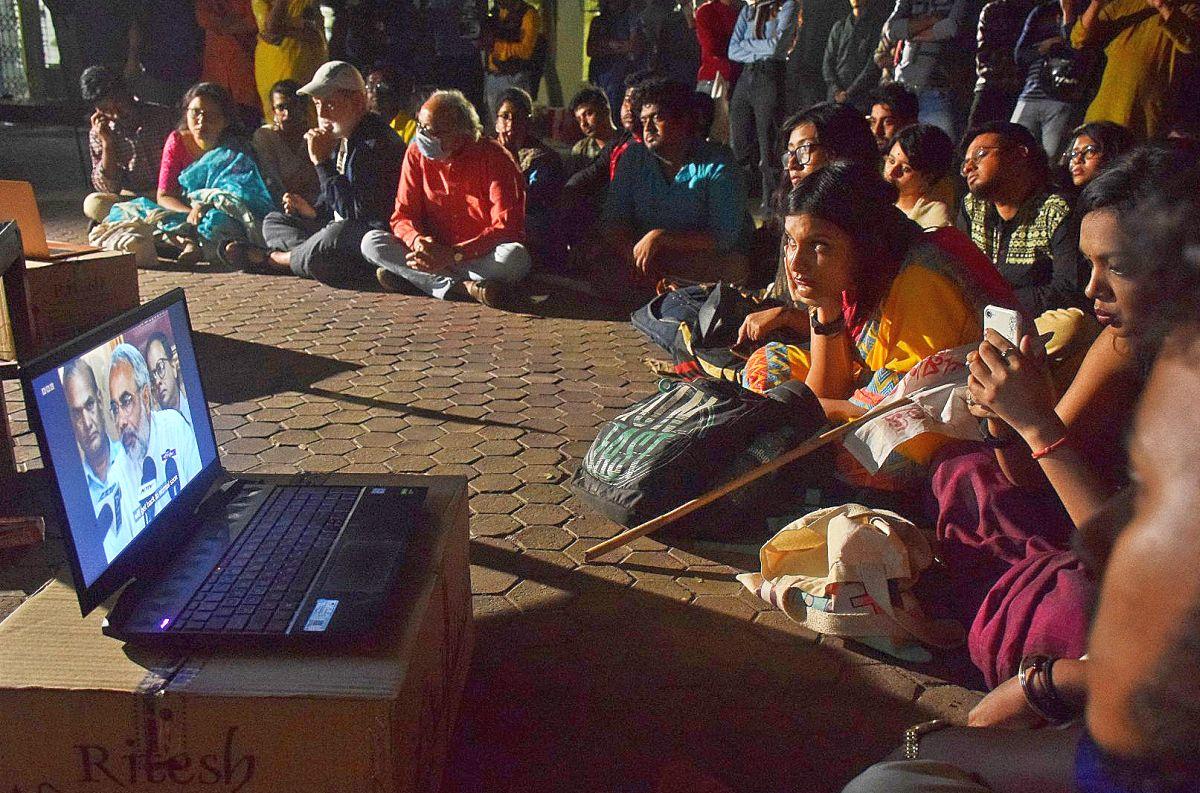 As many as 24 students affiliated with the National Students' Union of India were detained from Delhi University's arts faculty and heavy police deployment was maintained in the North Campus.
The university claimed 'outsiders' were trying to screen the documentary and the police was called to maintain law and order.
Police was seen dragging students away as they had gathered outside the arts faculty building to protest against not being allowed to screen the documentary.
Inside the arts faculty, the university's security personnel were also seen clashing with the students.
Deputy Commissioner of Police (North) Sagar Singh Kalsi said 24 students were detained from DU's Arts Faculty and the situation is now back to normal..
"Around 4 pm, some 20 people came outside the Arts Faculty gate to screen the banned BBC documentary. As it could cause disturbance of peace and tranquility in the area, they were asked to disperse from there.
"When they did not, they were peacefully detained. A total of 24 people were detained," he said.
The documentary screening at the two universities was called by different students groups.
At Delhi University, the call was given by NSUI, the students wing of the Congress.
While at Ambedkar University, the Left-affiliated Students Federation of India organised the proposed screening.
Notably, SFI was also involved in organising the screening at Jawaharlal Nehru University and Jamia Millia Islamia.
The SFI alleged that the screening at Ambedkar university could not be held as the Delhi government-run university disconnected power supply, but a QR code with a link to the short film was shared with students so that they could watch it on their personal devices.
The protesting students at Ambedkar University accused the varsity of calling the security personnel.
The police officials, however, said they were visiting all college and university campuses in the district to ensure peace and tranquillity in the area.
The action comes days after a similar ruckus at Jawaharlal Nehru University and Jamia Millia Islamia over the documentary's screening.
Jamia Millia Islamia became the centre of a kerfuffle on Wednesday after the SFI's plans to organise a screening of the documentary were thwarted by the varsity and the police.
JNU also witnessed a ruckus and protests over the screening on Tuesday.
The Centre had last week directed social media platforms Twitter and YouTube to block links to the documentary -- India: The Modi Question.
The Ministry of External Affairs has trashed the documentary as a 'propaganda piece' that lacks objectivity and reflects a colonial mindset.
The two-part documentary claims it investigated certain aspects relating to the 2002 Gujarat riots when Prime Minister Narendra Modi was the chief minister of the state.