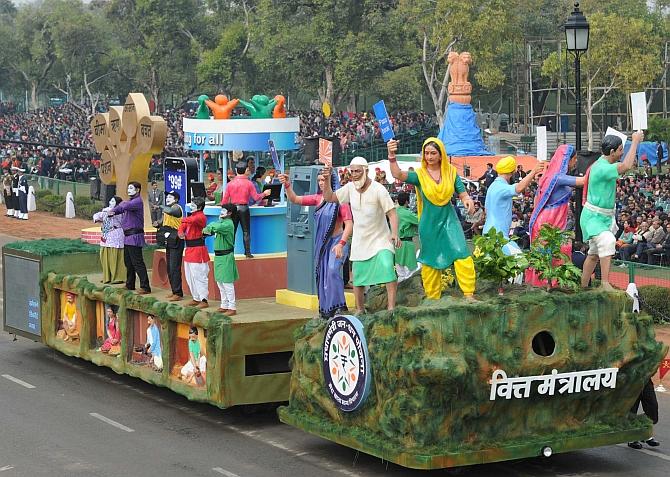 A giant statue of Dalit icon B R Ambedkar, rare natural abode of Asiatic lions in Gir, white tiger safari and initiatives like 'Swachh Bharat' and 'Digital India' are among the themes this year for the Republic Day tableaux.
A total of 23 tableaux would be on display at the ceremonial parade, with 17 of them belonging to various states and UnionTerritories.
Six tableaux from the ministries of social justice and empowerment, new and renewable energy, drinking water and sanitation, communication and IT, panchayati raj and the Election Commission will also find their place at the 67th Republic Day on the Rajpath.
States registering their presence this year include Assam, Goa, Sikkim, Rajasthan, Chandigarh, Tripura, Odisha, West Bengal, Bihar, Karnataka, Madhya Pradesh, Chhattisgarh, Tamil Nadu, Uttarakhand, Uttar Pradesh, Jammu and Kashmir and Gujarat.
There will be no tableau from national capital Delhi for the third consecutive year.
Senior officials of the defence ministry said among the vibrant and majestic culture and 'smart ideas' of the country on display, two of them would particularly show rarely known tribes in the country -- Todas in Tamil Nadu and Sidi community in Gujarat.
"The tableau of Gujarat will depict rare and exotic varieties along with the Sidi community settled in the Gir forest, performing their traditional dance. Similarly, the Tamil Nadu presentation will depict the lifestyle, appearance, manners and customs of Toda tribe of Nilgiri district, one of the six primitive tribal groups of the state," a senior official said.
The tableau by the ministry of social justice and empowerment will showcase Parliament building, a replica of a grand memorial at Babasaheb's birthplace in Mhow in Madhya Pradesh, in commemoration of his 125th birth anniversary, handing over of the Constitution by Ambedkar to first President Rajendra Prasad, and also highlight issues related to untouchability.
Image used for representational purposes only.