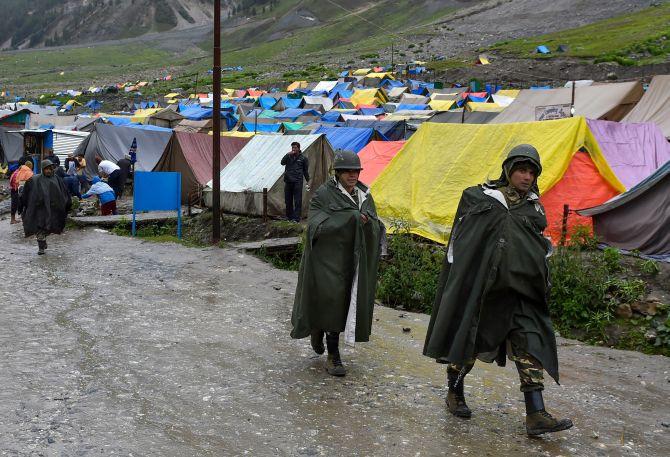 IMAGE: The camp at Baltal. Photograph: PTI Photo
The Amarnath Yatra to the cave shrine in south Kashmir Himalayas remained suspended on Thursday for the second consecutive day from both Pahalgam and Baltal routes due to landslides and shooting stones.
"Yatra via both Baltal as well as Pahalgam routes remained suspended for the second day due of landslides and shooting stones at several places and intermittent rains in the Yatra area," a spokesman of the Shri Amarnath Shrine Board (SASB) said.
He said, however, limited helicopter services functioned from both routes.
Three pilgrims died and four other persons suffered injuries when they came under a landslide between Brarimarg and Railpathri on Baltal route on Tuesday night while two pilgrims were killed by shooting stones over the past two days.
Six other persons have died due to cardiac arrest since the pilgrimage to the 3880 metre high cave shrine began on 28 June.
Meanwhile, the External Affairs Ministry on Thursday issued an advisory for pilgrims planning to undertake the Kailash Mansarovar Yatra through Nepal, saying there were 'high chances' of getting stranded in various legs of the journey in case of inclement weather.
The advisory comes in the wake of the recent inclement weather along the Nepalganj-Simikot-Hilsa route of the Kailash Mansarovar Yatra through Nepal, and the consequent stranding of pilgrims for over a week.
The advisory said the prospective pilgrims should note that Simikot and Hilsa in Nepal are connected to rest of the world only by air through small aircraft and helicopters.
These small aircraft and helicopters can operate only when the weather is absolutely clear in these places and their adjoining areas, as the terrain and the route is extremely dangerous, the advisory said.
In case of poor weather, there are high chances of pilgrims getting stranded in various legs of the yatra, it said.
Noting that Simikot and Hilsa are extremely infrastructure lean places lacking medical facilities and comfortable boarding and lodging, the advisory said pilgrims should get themselves medically examined before starting the yatra and carry medicines for up to a month.
It also asked all prospective pilgrims, state governments and tour agencies to apprise themselves with the ministry's advisory issued in April and implement it in letter and spirit.
In the April advisory, the ministry had said that Indians travelling for the yatra through Nepal should ensure that they have appropriate Chinese visa and travel permit for Tibet in hand before commencing their journey.
It had said the pilgrims should note that they would be traversing Simikot and Hilsa on their way and both these places have inadequate tourist and medical infrastructure, and are prone to inclement weather due to which to-and-fro flights get disrupted.
Scores of Indian pilgrims were evacuated from Nepal's mountainous Hilsa region yesterday, as authorities stepped up efforts to rescue those stranded there due to heavy rain while returning from the Kailash Mansarovar pilgrimage in Tibet.