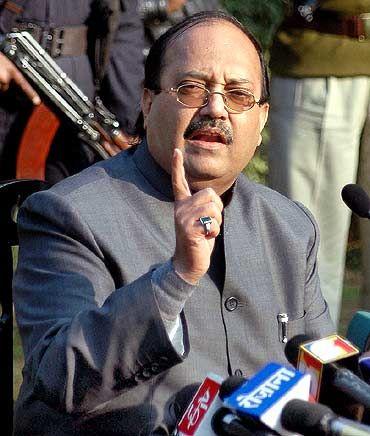 With cinestars Jaya Prada and Sanjay Dutt in tow, expelled Samajwadi Party general secretary Amar Singh is all set to formally launch his own party in the new-year.


"I will make a formal announcement about my plans soon after the conclusion of a march I propose to lead from Allahabad to Gorakhpur between December 1 and December 30," Singh told mediapersons in Lucknow on Tuesday.
Amar Singh was in Lucknow to put up a show of strength through a meeting of his supporters, who were brought essentially to reinforce his plans of forming his own party, now that he has apex court's nod.

Contrary to his erstwhile high-profile ways, the meeting was held in a modest Ganna Sansthan auditorium that was packed to its capacity of 650, while a spillover of another 1,000 could be seen hovering around the place.

Besides the followers of Jaya Prada from Rampur, her Lok Sabha constituency, Singh show drew crowds from parts of Eastern UP, which the latter proposes to build as his new "karmabhoomi".
Evidently desperate to cast himself in a new political mould, Singh has been trying to proclaim himself as some kind of torch-bearer of a so far dormant movement for carving out an independent Purvanchal state out of the eastern part of Uttar Pradesh.

Other than SP chief Mulayam-bashing, his entire focus at the meet remained on showing the participants a dream of building Purvanchal state.
"My mission is to fight for the cause of building smaller states and Purvanchal will mark the beginning of this movement from December 1," he told mediapersons.

Referring to the purpose of the day's rally, he said, "This was for all those who have been spreading the word that I cannot even contest a gram pradhan's election; now you can see there are 5,000 people here and most of them are recently elected gram pradhans and other members of zila panchayats, who are the actual strength behind MLAs and MPs."

He was however evasive, when a scribe sought to know if he would dare to contest a direct election instead of seeking another entry into the Rajya Sabha only.

He also refuted media reports about his joining popular reality show, 'Big Boss'.
Image: Amar Singh