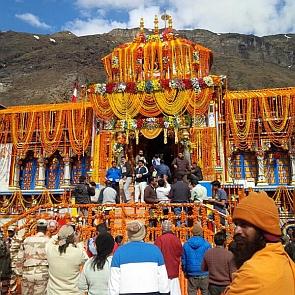 The sacred portals of Badrinath shrine in Garhwal Himalayas were reopened on Monday after a gap of six months amid chants of vedic hymns and elaborate rituals.
Nearly 5,000 devotees paid obeisance at the shrine dedicated to Lord Vishnu, as the temple portals opened in the wee hours.
With the opening of Badrinath shrine, the Char Dham Yatra will be complete as the other three shrines in the circuit including Gangotri, Yamunotri and Kedarnath had been thrown open for the pilgrims.
This is the first char dham yatra season after the devastating calamity struck Uttarakhand last year, leading to large-scale damage to lives and property in areas close to the four Himalayan shrines.
The gates of the shrine located at a height of over 10,000 feet were opened at 4:05 am after necessary rituals, Badrinath-Kedarnath temple committee chief Ganesh Godiyal said.
Chief priest (Rawal) of the famed temple Ishwar Prasad Namboodiri opened its gates in the presence of senior administrative, police and temple committee officials, Godiyal said.
Despite a chill in the air after showers last night, nearly 2500 devotees flocked to the temple in the wee hours to pay their obeisance, he said, adding so far nearly 5,000 enthusiastic pilgrims have visited the shrine.
The four shrines are closed annually during winter for six months when they become snowbound and inaccessible.
During the six-month yatra season, lakhs of people from across the country and abroad undertake a pilgrimage to the shrines considered central to the economy of Garhwal Himalayas.
Elaborate arrangements have been made for the safety of pilgrims this year in view of last year's calamity in which hundreds of people were killed and thousands went missing.
The administration is on maximum alert with State Disaster Response Fund personnel deployed in slide-prone and sensitive areas enroute to the four shrines where enough food and water supplies have been made available besides adequate power connectivity.

Image: Pilgrims throng the Badrinath shrine in Uttarakhand

Photograph: @gauravcsawant/Twitter