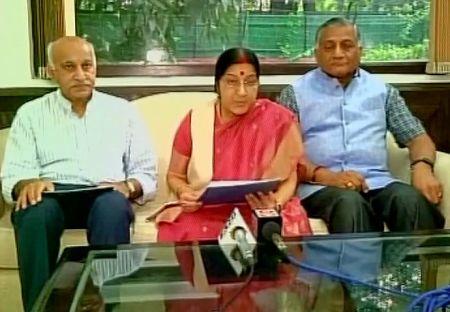 In a strong attack on Pakistan Prime Minister Nawaz Sharif for his statements on Kashmir, External Affairs Minister Sushma Swaraj on Saturday told him that his dream of the state becoming a part of his country "will not be realised even at the end of eternity".
Taking umbrage at Sharif's statement that "Kashmir will one day become Pakistan", she said in a statement that this "delusional though dangerous dream" was the reason for Pakistan's "unabashed embrace and encouragement to terrorism".
"The whole of Jammu and Kashmir belongs to India. You will never be able to make this heaven on earth a terror hell," she said.
India's reaction came amidst provocative statements issued on near-daily basis by Pakistan government and Sharif.
Noting that in the last few days, leadership of Pakistan, including its prime minister has praised Burhan Wani, a wanted terrorist commander of the banned terrorist organisation Hizbul Mujahideen, as "martyr", Swaraj wondered did he not know that he was carrying an award of Rs 10 lakh on his head because he had perpetrated heinous crimes including murder of elected representatives of local bodies and security personnel.
"Even more condemnable than these deplorable attempts from across our border to incite violence and glorify terrorists is the fact that these attempts have been undertaken by Pakistan's state machinery in active partnership with United Nation-designated terrorist Hafiz Saeed and other leading terrorists belonging to internationally proscribed organisations," she said.
Taking on Sharif for his comments that his good wishes are with the people of Kashmir, Swaraj said, "Sadly, it's not Pakistan's good wishes or moral or diplomatic support but its weapons and terrorism that it has exported to Jammu and Kashmir.
"Pakistan's dirty money, dangerous terrorists and duplicitous state institutions seek to destabilise the region. The statement of none other than the prime minister of Pakistan has betrayed this despicable design. But I would like to repeat that this dream of Pakistan will never be fulfilled."
Accusing Pakistan of using fighter planes and artillery against millions of its own people, the minister said it has no right whatsoever to point a finger against brave, professional and disciplined police and other security forces of India.
"Their restraint and respect for their fellow citizens is evident in the unusually high number of the injured personnel -- more than 1700 -- in the violence unleashed with the support from across the border in Jammu and Kashmir," she added.
At least 45 people have died and more than 3,400 have been injured in the violence that erupted in Kashmir after the killing of 22-year-old terrorist Wani by security forces on July 8.
India has accused Pakistan of not only pushing in terrorists but also fanning discontent within the Valley by providing support to terrorist outfits in fomenting the recent trouble in Kashmir.
Pakistan used Wani's killing to needle India at the United Nations and issued statements where it accused India of atrocities in Kashmir. Pakistan also observed 'Black Day' on July 19 to express solidarity with the people of the Valley over the killing of Wani.
External Affairs Minister Sushma Swaraj addresses a press conference in NEw Delhi. Photograph: ANI_News/Twitter