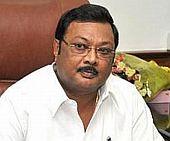 Union Fertilizer Minister and Dravida Munnetra Kazhagam strongman MK Alagiri is keen to return to Tamil Nadu politics. He may do so by relinquishing his Union minister position by mid December to campaign for DMK in the southern districts of Tamil Nadu for the assembly elections in 2011.
A highly placed DMK source told rediff.com that MK Alagiri is now convinced to work for the success of DMK in the April 2011 assembly elections in Tamil Nadu.
Alagiri is currently camping in Madurai for the past one month, as he is busy with preparations of his son Dayanidhi's marriage on November 18.
Alagiri has invited both Prime Minister Dr Manmohan Singh and Congress president Sonia Gandhi to bless the couple in Madurai. Although, till Monday afternoon, there was no confirmation from them to go to Madurai.
Since SPG did not send advance team for security, the close friends of MK Alagiri are concerned with the absence of these two.
Obviously, it would also send a wrong political signal, after the resignation of A Raja as telecom minister over the 2G spectrum scam. Alagiri and his family are worried on this aspect.
After the wedding, once the major responsibility is over, he would concentrate on 85 assembly constituencies under his control. Alagiri has also openly stated that he would seek ballot voting to elect the candidate for the post of chief minister amongst the elected MLAs in May 2011.
MK Alagiri has conveyed to his father and Tamil Nadu chief minister M Karunanidhi recently, about his willingness to get back to state politics.
A decision is likely to be taken by Karunanidhi by early December.
Alagiri has not been attending Union Cabinet meetings, Parliament and even participating the government's day-to-day administration.
Image: Union minister M K Alagiri