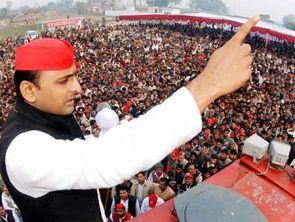 Alleging that communal clashes in Muzaffarnagar and neighbouring areas was a political conspiracy, Uttar Pradesh Chief Minister Akhilesh Yadav said it was an attempt to defame and destabilise his government.
"The violence is a political conspiracy to defame and destabilise my government which is doing a good job for the poor, the youths and all sections of the society," he told reporters.
"Political parties are trying to find ways to attack the government and this they have done in the past also. Earlier, in Shamli they have tried to vitiate the atmosphere of the state but it was thwarted," Akhilesh said.
On the Centre seeking a report on the violence, the chief minister said he had spoken to the prime minister, the home minister and the Governor and apprised them about the situation in Muzaffarnagar.
"I have assured them that peace and harmony will be maintained as soon as possible. We have already taken action and removed officers and are doing whatever is possible," Akhilesh said on the sidelines of a function to flag off the first batch of Haj pilgrims from the state.
"Our priority at the moment is to maintain peace. Strict action will be taken against those found guilty," he said.
Asked about the Mahapanchayat in Muzaffarnagar after which the violence erupted, Akhilesh, donning a skull cap, said his government was mulling the option of putting a ban on such panchayats.
"This is not the right time to say anything about the Mahapanchayat. But, in future our government will put a ban on such panchayats which are against the law," he said.
Adequate central and state forces have been deployed in sensitive areas and strict action would be taken against rioters, Akhilesh said.