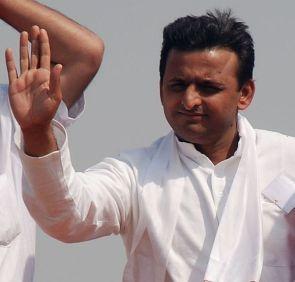 Uttar Pradesh Chief Minister Akhilesh Yadav on Tuesday night sacked a junior minister and changed the portfolios of 11 ministers including 9 of cabinet rank in a major reshuffle of his council of ministers.
Yadav removed Minister of State for Entertainment Tax Taj Narain Pandey, an official statement said.
Portfolios of 9 cabinet ministers and two ministers of state were also changed.
Balram Yadav who previously held Panchayti Raj has been given the Jail Administration, which was earlier with Rajendra Chaudhary.
Chaudhary has been given the portfolio of Political Pensions, the release said.
Senior minister Ram Govind Chaudhary was divested of Child Nutrition. He will now only have Basic Education department with him.
Brahmashankar Tripathi has been divested of Vocational Education and Skill Development departments and has been left with only the responsibility of Home Guards department, the release said.
The departments of Khadi and Gramodyog have been taken from Kailash and given to Sports and Youth Welfare Minister Narad Rai.
Kailash has been given the portfolio of Panchayti Raj while Agriculture minister Manoj Pandey has been given Science and Technology.
Iqbal Mahmood has been made the Minister for Fisheries and Public Enterprises divesting him of the Secondary Education department, which will be now be with previous Fisheries Minister Mehboob Ali.
Minister of State (Independent) for non-conventional energy Vijay Kumar Misra has been given Religious Endowment department while Minister of State for Science and Technology Abhishek Misra has been given Vocational Education.