A clerical error compounded by callousness of the higher bureaucracy has raised a storm over the already vexed Ayodhya issue.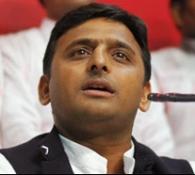 A circular was issued by Uttar Pradesh's home department for calling a high official meeting to discuss the issue of "re-construction of the Ram temple in Ayodhya", when the actual purpose of the meeting was to review and discuss the law and order arrangement in the wake of a call given by the Vishwa Hindu Parishad to observe 'sankalp diwas' for passing a fresh resolution for construction of the temple.
The circular was issued on Friday under the signature of Sarvesh Kumar Misra, who is one of the three home secretaries. Obviously, none of the senior bureaucrats cared to even take a look at the circular prepared by a lower division clerk – as was the routine practice in Uttar Pradesh secretariat.
The circular went on to add what was even more sensational to be included in the proposed meeting -- "the enactment of a law in Parliament for construction of a temple at Shri Ramjanmbhoomi on the lines of the reconstruction of the Somnath mandir."
"It was a typing error by some clerk, which the special secretary or secretary should have checked and corrected," Principal Home Secretary R M Srivastava clarified on Saturday morning, when the contents of the circular hit the headlines in an English daily in Lucknow.
He said, "Due to sheer clerical error, the circular carried whatever was mentioned in the memorandum issued by VHP; and that was what gave the wrong impression that the government was going to discuss the issue of reconstruction of the temple."
He further emphasised, "The meeting, to be held on Monday, was meant to discuss the law and order arrangement required for the state on the day VHP seeks to observe its 'sankalp diwas' -- nothing else." He went on to add, "In keeping with the stern directives of the apex court, there is no question of allowing anyone to alter the status quo in and around the disputed site in Ayodhya."
Meanwhile, as word spread about the news appearing on top of the front page in the daily, the impression it created was that the Akhilesh government was working out some plan to reconstruct the Ram temple on the lines of reconstruction of the Somnath temple in Gujarat shortly after independence.
The message it sent was loaded with enough potential to tarnish Samajwadi Party chief Mulayam Singh Yadav's already eroded credibility with Muslims. And clearly, the ruling party cannot afford to lose it any further with the 2014 Lok Sabha election knocking at the doors.