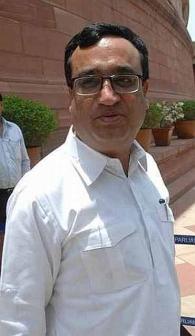 Senior Congress leader Ajay Maken is all set to be the party's Lok Sabha candidate in New Delhi constituency as no other leader of the party has come forward under the Rahul Gandhi-promoted 'primaries' system.
"Ajay Maken, who is a Member of Parliament from New Delhi constituency, today filed his nomination under the primaries project at the Delhi Pradesh Congress Committee office. As no other leader of the party came forward to file his nomination, Maken will now be the candidate from New Delhi Lok Sabha seat," said Hari Shankar Gupta, Delhi's in-charge for the project.
Gupta said since only one nomination has been filed for New Delhi seat, voting, scheduled to be held on March 6, will not take place.
"A convention has been called on March 1. Maken will address party workers at the DPCC office," Gupta added.
Earlier in the day, after filing his nomination, Maken claimed he had the support of 233 voters.
"Congress workers have faith in me. Out of 303 voters, I have got the support of 233 voters," Maken told reporters.
Asked if the primaries project, an experiment by Congress Vice-president Rahul Gandhi, would boost groupism among party workers, Maken said every political party has to face
groupism.
"If we think that there is no groupism among party workers, it would not go away even if we close our eyes. Every political party, whether it is the Congress or the Aam Aadmi Party, has to face groupism. With the primaries project, workers will now have a say in selecting their candidate," Maken said.
Primaries for selecting the Congress nominee for the northeast Lok Sabha seat, from where Jai Prakash Agarwal is the sitting Member of Parliament, will be held on March 11.
The results will be announced on the same day.
In the first phase, 15 Lok Sabha constituencies across the county have been brought under the primaries project.