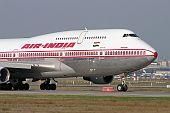 Two alleged Sikh terrorists, sent back to India in 2000 after serving a life term in Pakistan for hijacking an Air India plane to that country in 1981, have moved the Delhi high court for quashing a fresh trial against them in New Delhi for the same offence.
The two also sought quashing of the trial court's order to begin the process to declare them proclaimed offenders in the case.
Issuing notice to the city police on the plea of Jalandhar resident Tejinder Singh and Chandigarh resident Satnam Singh, Justice Manmohan sought its response by April 8, 2013.
The duo, along with three others -- Gajender Singh, Karan Singh Kini and Jasbir Singh Jima, were deported from Pakistan to India in 2000 after serving the life term for hijacking the AI plane to that country from New Delhi.

The case against the five dates back to September 29, 1981 when they hijacked an Air India plane from New Delhi to Srinagar en route Amritsar and forced it to land in Pakistan, where they were arrested and sentenced to life imprisonment.

After their deportation to India in 2000, they had sought their discharge from the case registered in New Delhi but a sessions court had dismissed their plea and had asked police to file charge sheet against them.
The two said in their plea to the high court that "the criminal proceeding against them is arbitrary, perverse and is totally unjustified apart from being contrary to the law and fact.
"On the basis of fresh charge sheet, the court passed the order completely casual and perfunctory manner without due application of judicious mind," they said.
On October 15, a magisterial court had ordered initiation of proceedings under section 82 of the Cr PC to declare the five as proclaimed offender as the NBWs issued against them after filing of the charge sheet could not be executed at the addresses recorded in the police file.
The NBWs against them were issued by the court in August this year in pursuance of the sessions court order which had earlier asked for their fresh trial here in the same hijacking case of 1981, but for different offences arising out of it.


The warrants were issued after the court had taken cognisance of the Delhi police charge sheet, which was filed against the accused in October last year.

The Delhi Police has filed charges under sections 121 (waging war against Government of India), 121A (conspiring to commit certain offences against the state), 124A (sedition) and 120B (criminal conspiracy) of the Indian Penal Code against the five.