Indian Olympic Association (IOA) can still avoid an Olympic suspension by calling off its controversial December 5 election, its secretary general Randhir Singh told Reuters on Thursday.
The International Olympic Committee (IOC) will propose the suspension to its Executive Board next week after being told that government regulations would apply for the IOA election.
"I think we can still avoid it by calling off the elections," Singh, who has been critical of IOA acting president V.K. Malhotra for going ahead with the election, said in a telephone interview.
"The IOC has clearly said that they will not recognise the election results in the current scenario. What is the hurry?" said Singh who initially decided to run for the top IOA job before pulling out last week.
A Delhi court has asked IOA to hold the elections adhering to the government's sports code, while the IOC maintains it can happen only under the rules mentioned in Olympic charter and IOA constitution.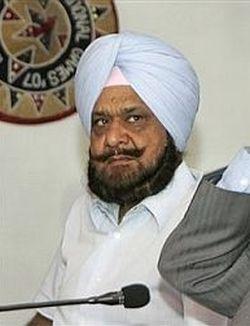 "There is a court hearing on December 17 on the issue, so they (IOA) could have waited for that," said Singh, also the secretary general of the Olympic Council of Asia and an IOC member.
"The IOA, the IOC and Indian government can sit down and solve this issue and the elections can be held after that."
Singh blamed IOA colleague Malhotra for the current mess.
"I have repeatedly told them that the IOC was very serious but they didn't understand. They continued with the election process, they thought they can bully everyone," Singh said.
COMMONWEALTH GAMES
The run-up to the highly politicised IOA election has been mired in controversy with beleaguered president Suresh Kalmadi bowing to pressure and not seeking a re-election.
Kalmadi had been arrested in April 2011 on charges of inflating tenders for equipment used at the 2010 New Delhi Commonwealth Games which he was heading. He was released from prison in January after serving nine months.
"As far as the IOA is concerned, we were in shambles after the Commonwealth Games. Our reputation had gone for a toss," Singh said.
"We retrieved some of it in the last two years and then the athletes did a good job in London. But then we are back to zero now."
Indian athletes returned from London Olympics with two silver and four bronze medals, equalling the collective tally of India's previous seven campaigns.
"Things were looking up, people were interested in the Olympic movement in the country but everything has been destroyed now," Singh said.