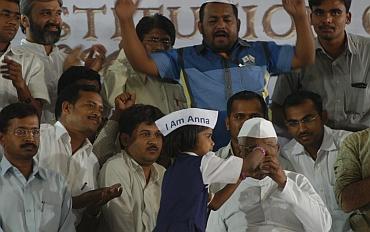 In a sudden climb down, Anna Hazare on Wednesday made a surprise announcement of calling off his campaign to fill jails from Friday and ended his fast.
No reasons were given by the 74-year-old activist for the abrupt decisions but apparently it was the poor public response to the three-day fast which he had began on Tuesday and to have a parallel fast by his team in Delhi that weighed heavily on his mind.
He was also unwell and was earlier urged by his doctors to give up the fast.
A girl from Ralegan Siddhi, Hazare's village, gave the activist a glass of juice to break the fast. Hazare offered juice to his team members Arvind Kejriwal, Manish Sisodia and Mayank Gandhi.
Pic: Sahil Salvi/Rediff.com