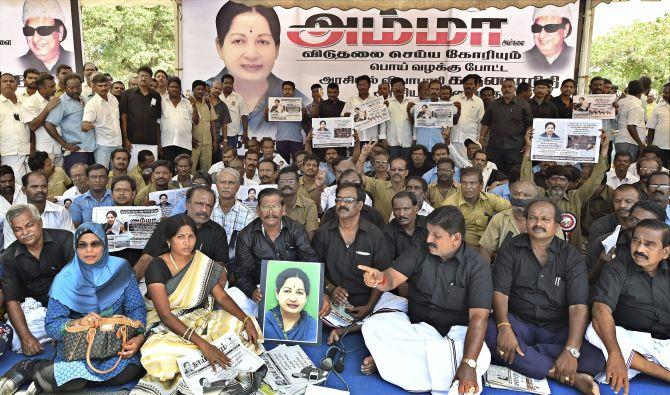 Members of Tamil Nadu State Transport Corporation sit on a hunger strike protesting against AIADMK chief J Jayalalitha's conviction in a disproportionate assets case, in Chennai. Photographs: PTI photo
Protests by supporters of ruling All India Anna Dravida Munnetra Kazhagam and several other outfits, including party affiliated trade unions intensified across the state against the conviction of Jayalalithaa in the disproportionate assets case, seeking her early release.
Fasts and demonstrations continued for the sixth consecutive day all over Tamil Nadu and special prayers were also held in places of worship.
No untoward incidents were reported from anywhere in the state, police said.
Most towns and semi-urban regions in Tamil Nadu were awash with posters and banners released by party MPs, state ministers and MLAs asking "Punishment for the angel of justice? Dharma will triumph eventually."
At demonstrations, speakers said Jayalalitha had secured justice for Tamil Nadu on the Cauvery issue and now was jailed in Karnataka.
Thani Tamilar Sena, in a huge poster, alluded to the 'silence' of DMK chief Karunanidhi on the judgment against the AIADMK chief and demanded to know if there was a collusion of "anti-Tamil" forces on the issue.
CPM, PMK and DMDK in press releases condemned the protests against the conviction.
On September 27 a special court in Bangalore had sentenced Jayalalithaa to four years in jail and slapped a fine of Rs 100 crore in the Rs 66.65 crore disproportionate case.