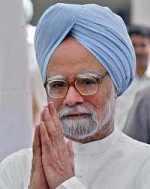 Ahead of Prime Minister Manmohan Singh's visit to Hyderabad on Tueday, the Telangana Rashtra Samithi and Telangana Joint Action Committee leaders launched a stir over the Telangana statehood demand.
A group of pro-Telangana activists, who took out a rally and tried to release black balloons in the air near People's Plaza on Necklace Road in Hyderabad, were taken into custody and a gas cylinder used for filling the balloons was seized, an officer attached to Ramgopalpet police station said.
The activists wanted to release black balloons as a mark of protest against the Union government's "delay" in granting statehood to Telangana, the officer said.
At Indira Park, TRS legislators, TJAC, Bharatiya Janata Party and Congress leaders launched a sit in wearing black badges. Telangana Nagara Samithi leader Nagam Janardhan Reddy also joined this agitation.
A group of pro-Telangana students also took out a rally near the Arts College in the Osmania University campus holding black balloons.
Dr Singh is scheduled to address the 11th Conference of Parties to the Convention on Biological Diversity in Hyderabad on Tuesday afternoon.
Meanwhile, tight security has been put in place in view of the PM's visit, with the deployment of additional forces including central paramilitary forces at Begumpet Airport and HICC -- the venue of the ongoing Biodiversity meet.
Special Protection Group personnel are also monitoring the security arrangements.
Traffic police have already announced restrictions on the routes leading to Hyderabad International Convention Centre and the nearby places during the Prime Minister's visit.
According to the official schedule, Dr Singh, after his arrival at Begumpet airport at 2.45 pm, will fly to HICC in a helicopter. After attending the biodiversity conference, he will proceed to Gachibowli by road to unveil a CoP-11 commemorative pylon and lay the foundation stone for a biodiversity park and museum.
Dr Singh will then board a helicopter from a temporary helipad at Cyberabad Police Commissionerate towards Begumpet Airport, before leaving for Delhi on Tuesday evening.