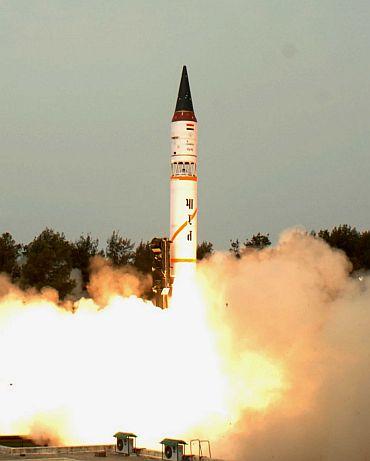 India's strategic capabilities on Monday took a leap forward as it successfully test-fired Agni-V, the country's most lethal nuclear-capable inter-continental ballistic missile with a range of over 5,000 kms that covers entire China.
Monday's successful test-firing will pave the way for user trial of the missile and its eventual induction into the Strategic Forces Command, defence sources said.
"Agni 5 was successfully flight tested by DRDO at 1100 hours from Dr Abdul Kalam Island, Odisha. The full range test-flight of the missile has further boosted the indigenous missile capabilities and deterrence level of the country," a statement by the defence ministry said.
It added that all the radars, tracking systems and range stations tracked and monitored the flight performance and all the mission objectives were successfully met.
This was the fourth test of Agni-V missile and the second one from a canister on a road mobile launcher. All the four missions have been successful.
President Pranab Mukherjee, Prime Minister Narendra Modi and Defence Minister Manohar Parrikar congratulated the Defence Research and Development Organization scientists, saying it will add tremendous strength to the country's strategic defence and deterrence capabilities.
"Successful test-firing of Agni V makes every Indian very proud. It will add tremendous strength to our strategic defence," Modi said.
At present, India possesses Agni-I with a range of 700 kms, Agni-II with 2,000 kms range, Agni-III and Agni-IV with 2,500 km to more than 3,500 range in its armoury of Agni missile series. Agni-V missile has a range of over 5,000 kms and covers the whole of China, a country seen as a strategic challenge in India.
It has advantages of higher reliability, longer shelf life, less maintenance and enhanced mobility.
The three-stage, solid propellant surface-to-surface missile was test-fired from a mobile launcher from launch complex-4 of the Integrated Test Range at about 1105 hours, DRDO sources said.
About 17-metre long and weighing over 50 tonne, the missile majestically rose from the confines of its canister flawlessly and achieved all targets, sources in Defence Research and Development Organization said.
It is the fourth developmental and second canisterised trial of the missile, integrated with a sophisticated mobile launcher in its deliverable configuration that enables launch of the missile with a very short preparation time as compared to an open launch, they said.
While the first test of Agni-V was conducted on April 19, 2012, the second was on September 15, 2013 and the third on January 31, 2015 from the same base.
Among the missiles of Agni series, the latest Agni-V is the most advanced having some new technologies incorporated with it in terms of navigation and guidance, warhead and engine, the sources said.
A lot of new technologies developed indigenously were successfully tested in the trial. The very high accuracy Ring Laser Gyro based Inertial Navigation System and the most modern and accurate Micro Navigation System had ensured the missile reached the target point within few meters of accuracy, they said.