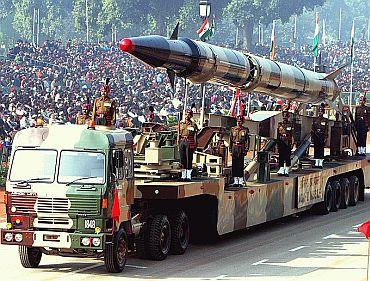 India is considering deploying its nuclear-capable ballistic missiles in the North-East close to its border with China in an apparent attempt to enhance its military preparedness.

The move comes close on the release of a report by Pentagon, which suggested that China has moved its new advanced longer range CSS-5 missiles close to its border with India and developed contingency plans to shift airborne forces to the region at short notice.
Why we should worry about China's defence budget
The government is considering the deployment of the 2,000 km range Agni-II and 350 km range Prithvi III surface-to-surface ballistic missiles close to the Chinese border, Defence Ministry sources said in New Delhi.

The sources said that additional land was being procured by the Army in North-West Bengal and adjoining states for deployment of these missiles.

In the recent months, India is focussed on upgrading its military infrastructure in the North-Eastern sector to counter any Chinese threat.

The measures taken by the government include the deployment of two squadrons of the Su-30 MKI fighter jets in Tezpur and Chhabua in Assam and raising of two mountain divisions for deployment in Arunachal Pradesh and adjoining areas.

The government also revised its old military doctrine of not developing roads along the border and is working on developing over 70 strategic roads on the Sino-Indian border.


Image: The Agni-II missile