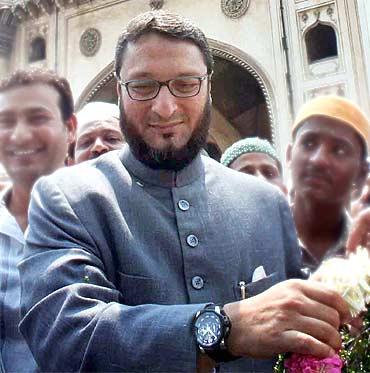 With its electoral curve showing an upward trend in Maharashtra, All India Majlis-e-Ittehadul Muslimeen is now focusing on Uttar Pradesh in an apparent move to make inroads into the support base of Samajwadi Party and Bahujan Samaj Party.
"We are going to contest assembly elections in Uttar Pradesh," All India Majlis-e-Ittehadul Muslimeen chief Asaduddin Owaisi said, adding that he was working to strengthen his party in the state at a time when the ruling Samajwadi Party has "failed to fulfil" promises to the people.
Elections in Uttar Pradesh are scheduled in early 2017.
The Lok Sabha MP said it was "too early" to say whether AIMIM would align with any other party in Uttar Pradesh. He said his party has not taken any decision on the issue of contesting assembly polls in Bihar scheduled later this year and in West Bengal next year, both the states with sizeable Muslim voters.
Till BJP's emergence in 2014 Lok Sabha polls, politics in Uttar Pradesh has been dominated by the SP and the BSP for the past decade.
Owaisi, who has courted controversy in the past with his inflammatory speeches, said he is not being allowed to enter Uttar Pradesh with the Samajwadi Party government cancelling all his rallies and public meetings at the eleventh hour by citing fears about law and order situation before courts.
He said in Congress-ruled Karnataka too he is not being allowed to address rallies in Bengaluru despite AIMIM being a registered party in the state.
"No state is a personal fiefdom of anyone. They wrongly use courts.... They start communal versus secular debate for denying me permission," said 45-year-old Owaisi, a third-term MP from Hyderabad, while criticising Uttar Pradesh and Karnataka governments.
In the just-concluded Aurangabad municipal elections in Maharashtra, AIMIM sprang a surprise and won 25 of the 53 seats it contested and became the second largest party after the Shiv Sena with its 29 seats.
The BJP had to be content with 22 seats in the AMC which had a total strength of 113. AIMIM earlier won two seats in the Maharashtra assembly elections.