Prominent international celebrities and activists on Wednesday joined American pop star Rihanna to extend support to the farmers' protests here and garner international attention on the protracted stir but their remarks were slammed by India as 'neither accurate nor responsible'.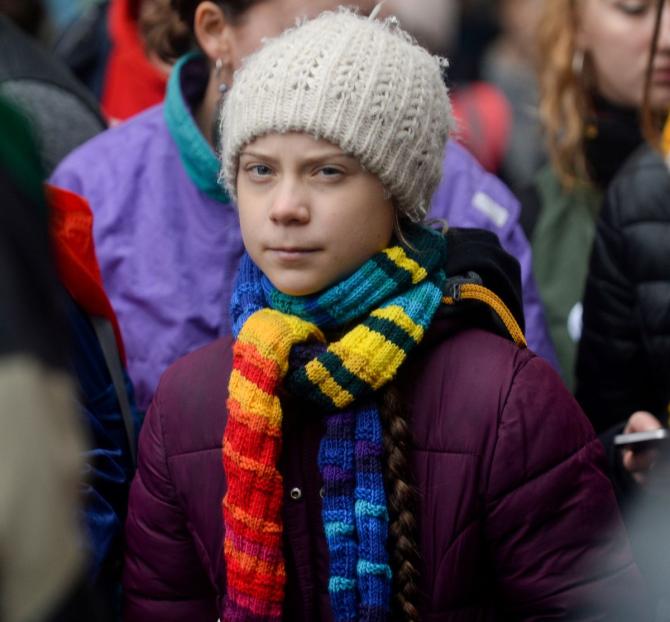 As the Ministry of External Affairs(MEA) in its strong response to remarks by Rihanna, Swedish teen climate activist Greta Thunberg and other celebrities said facts must be ascertained before rushing to comment on the agitation, Bharatiya Kisan Union (BKU) leader Rakesh Tikait upped the ante indirectly warning the Modi government it could lose power if the stir for the repeal of the three new agri laws continues.
In a statement, the MEA also said some 'vested interest groups' are trying to enforce their agenda on the protests, and that a very small section of farmers in parts of the country have some reservations about the farm reforms which were passed by the Parliament after a full debate and discussion.
Union Home Minister Amit Shah said 'no propaganda' can deter India's unity or stop the country from attaining new heights as several of his ministerial colleagues as well as Bollywood celebrities like Akshay Kumar, Kangna Ranaut and Ajay Devgn and filmmaker Karan Johar urged people to be wary of false propaganda.
Welcoming the support extended by international personalties, the Samyukta Kisan Morcha (SKM), an umbrella body of 41 farm unions spearheading the over two-month-long agitation, said it is a matter of pride they are showing sensitivity towards the cause of farmers, but it is unfortunate that the Government of India is not understanding their pain.
Besides Rihanna and Thunberg, Meena Harris, an American lawyer and niece of United States Vice President Kamala Harris, actress Amanda Cerni, singers Jay Sean, Dr Zeus and former adult star Mia Khalifa voiced their support to the protesting farmers.
Rihanna on Tuesday became the first global name to voice her support to the ongoing farmers agitation while criticising the internet shutdown at the protest sites at Delhi border.
The 32-year-old singer, who has 101 million followers on Twitter, took to the microblogging site and shared a CNN news article headlined, 'India cuts internet around New Delhi as protesting farmers clash with police'.
'Why aren't we talking about this? #FarmersProtest,' Rihanna wrote.
Thunberg also took to Twitter to say, 'We stand in solidarity with the #FarmersProtest in India.'
In a fresh tweet on Wednesday, she also shared 'a toolkit for those who want to help'.
'Here's a toolkit if you want to help,' said Thunberg, which takes the user to a document containing details on ways to support the protest.
In the document, various urgent actions, including creating a Twitter storm and protesting outside Indian embassies, were listed which were needed to be taken to support farmers' agitation.
Meena Harris said, 'It's no coincidence that the world's oldest democracy was attacked not even a month ago, and as we speak, the most populous democracy is under assault.'
A Union home ministry official has since said there has been no further extension of the Internet suspension at Delhi's borders which was till the night of February 2.
Hollywood star John Cusack, who previously voiced support to anti-CAA protestors in February 2020, retweeted a post by Vanessa Nakate, a Ugandan climate activist, reading, 'Let us talk about what is happening in India right now #FarmersProtest.'
Emphasising that the protests must be seen in the context of India's democratic ethos and polity, the MEA in its statement said some vested interest groups have tried to mobilise international support against the country.
'Before rushing to comment on such matters, we would urge that the facts be ascertained, and a proper understanding of the issues at hand be undertaken.
'The temptation of sensationalist social media hashtags and comments, especially when resorted to by celebrities and others, is neither accurate nor responsible,' the MEA said with the hashtags #IndiaTogether and #IndiaAgainstPropaganda being used in its statement.
The farm laws issue rocked the Lok Sabha with a determined opposition unrelenting on their demand for a separate discussion on the subject as a result of which the proceedings were adjourned repeatedly.
In the Rajya Sabha, opposition leaders including Ghulam Nabi Azad of the Congress demanded that the Centre repeal the farm laws without making it a prestige issue.
In a show of strength of protesting farmers in Jind in Haryana, Rakesh Tikait renewed the demand for a 'wapsi' (withdrawal) of the three new central laws, and indirectly warned the Modi government that it could lose its 'gaddi' (power) if the agitation continues.
Just before Tikait was to begin his speech at the mahapanchayat in Kandela village, the stage on which the farmer leaders had gathered collapsed under their weight. Nobody was reported hurt and the BKU leader went on to address the large gathering.
"We have so far talked about 'bill wapsi' (repealing the farm laws). The government should listen carefully. What will you do if the youth call for 'gaddi wapsi' (removal from power)?" he said.
The BKU leader from Uttar Pradesh has been camping at Ghazipur on the Delhi-UP border as part of a campaign by farmer unions against the central laws enacted in September.
Farmers, mainly from Punjab and Haryana, are also massed at Tikri and Singhu on the Delhi-Haryana border.
Criticising the new security measures taken by police to barricade the protest sites, Tikait said, "When the king (ruler) is scared, he secures the fortress."
He suggested that he would lay down on the nails embedded on the roads there so that others can cross them by stepping on him.
Tikait said the campaign against the farm laws was going strong.
"The way we are getting support from khap panchayats, we will win this fight."
Farmer leaders alleged that the protest sites resemble 'international border' now with authorities building makeshift walls, planting huge metal spikes on roads and deploying concertina wire fences, even as officials defended the heavy-barricading citing law and order issues.
The heightened security measures and various restrictions have been imposed at the three protest sites -- Singhu (Delhi-Haryana border), Ghazipur (Delhi-Uttar Pradesh border) and Tikri (Delhi-Haryana border) -- since the Republic Day violence that had left over 500 police personnel injured and one protestor dead.
"The protest sites are looking like international borders. It is as if we have come from Pakistan. On one hand, they (the government) want us to talk, and on the other hand they are doing everything to de-link us (from the city)," farmer leader Kulwant Singh Sandhu told PTI.
BJP president J P Nadda and party spokesman Sambit Patra lashed out at 'propaganda and fake narratives'.
Patra also attacked Rahul Gandhi, alleging that he conspires with anti-India elements during his trip abroad, hours after the Congress leader claimed that India's reputation has taken a 'massive hit' and its biggest strength, its soft power, has been 'shattered' by the Bharatiya Janata Party and the Rashtriya Swayamsevak Sangh.
Cricket icon Sachin Tendulkar said India's sovereignty cannot be compromised.
'External forces can be spectators but not participants. Indians know India and should decide for India. Let's remain united as a nation,' he tweeted.